Hi everyone!😊
Before we get to this week's topic for Top Ten Thursday, today is my birthday! I can't wait to experience lots of new things and make many new memories this year, and I'm hoping to have this blog grow as much as I do.🎉🎉
Anyway, since it is the start of summer, I've decided to make this week's topic be about the best books to read during this season of fun. I also wrote a similar post to this last year, but I have read many fluffy books since then that I want to share with you all!!
Let's get started!❤️❤️
---
1. Lying out Loud by Kody Keplinger🙊
Sonny Ardmore is an excellent liar. She lies about her dad being in prison. She lies about her mom kicking her out. And she lies about sneaking into her best friend's house every night because she has nowhere else to go.
Amy Rush might be the only person Sonny shares everything with — secrets, clothes, even a nemesis named Ryder Cross.
Ryder's the new kid at Hamilton High and everything Sonny and Amy can't stand — a prep-school snob. But Ryder has a weakness: Amy. So when Ryder emails Amy asking her out, the friends see it as a prank opportunity not to be missed.
But without meaning to, Sonny ends up talking to Ryder all night online. And to her horror, she realizes that she might actually like him. Only there's one small catch: he thinks he's been talking to Amy. So Sonny comes up with an elaborate scheme to help Ryder realize that she's the girl he's really wanted all along. Can Sonny lie her way to the truth, or will all her lies end up costing her both Ryder and Amy?
This book, as well as all of Kody Keplinger's other books, is quite fun and light. I would definitely recommend Lying out Loud for awesome character development and a plot that will have you sitting on the edge of your seat!
---
2. One Italian Summer by Keris Stainton🇮🇹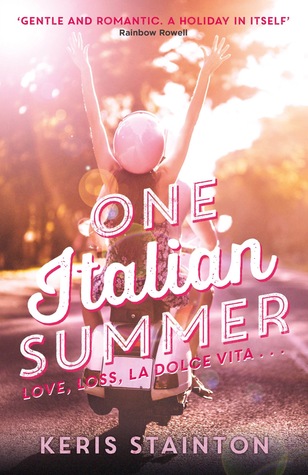 It's been a year since Milly, Elyse and Leonie's dad died, and a year since their last trip to Rome. Summer's here again, and once again they are heading with their mum to Italy – but what's it going to be like going without Dad? Rome still holds its familiar charms – the sun is still as warm, the gelato as delicious, the people as welcoming. But nothing is quite as it once was …

With grief still raw for all of them, Milly is facing the additional awfulness of having to see Luke again – gorgeous, gorgeous Luke, who she had a fling with last year, and who she made a total fool of herself with – or so she thinks. What's going to happen this time? What's more, things between Milly, her sisters and their mum are rocky – Leonie is being tempestuous and unpredictable, Elyse is caught up with her new boyfriend, and Milly feels like she just doesn't know how she fits in any more.

Over one Italian summer, can Milly find a way back to the life she once had?
Though this book did revolve around a girl who grieved over her father, it takes place in Italy and otherwise is a very light read.☺️
---
3. Romancing the Throne by Nadine Jolie Courtney👑
Scandal, secrets, and heartbreak abound in this juicy, modern girl-meets-prince story—perfect for fans of Stephanie Perkins and Jennifer E. Smith. "Maybe sisters aren't supposed to fall for the same guy, but who can mess with chemistry? A divine romantic comedy" (Brightly.com).

For the first time ever, the Weston sisters are at the same boarding school. After an administration scandal at Libby's all-girls school threatens her chances at a top university, she decides to join Charlotte at posh and picturesque Sussex Park. Social-climbing Charlotte considers it her sisterly duty to bring Libby into her circle: Britain's young elites, glamorous teens who vacation in Hong Kong and the South of France and are just as comfortable at a polo match as they are at a party.

It's a social circle that just so happens to include handsome seventeen-year-old Prince Edward, heir to Britain's throne.

If there are any rules of sisterhood, "Don't fall for the same guy" should be one of them. But sometimes chemistry—even love—grows where you least expect it. In the end, there may be a price to pay for romancing the throne…and more than one path to happily ever after.
This book has all the juiciness to be an amazing summer read! It wasn't really a favourite of mine, but I can still see its appeal to others.
---
4. When Dimple Met Rishi by Sandhya Menon💑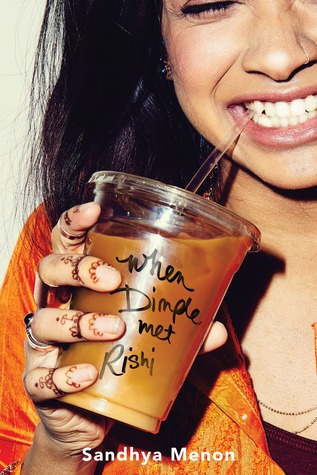 A New York Times bestseller

The rom-com that everyone's talking about! Eleanor & Park meets Bollywood in this hilarious and heartfelt novel about two Indian-American teens whose parents conspire to arrange their marriage.

Dimple Shah has it all figured out. With graduation behind her, she's more than ready for a break from her family, from Mamma's inexplicable obsession with her finding the "Ideal Indian Husband." Ugh. Dimple knows they must respect her principles on some level, though. If they truly believed she needed a husband right now, they wouldn't have paid for her to attend a summer program for aspiring web developers…right?

Rishi Patel is a hopeless romantic. So when his parents tell him that his future wife will be attending the same summer program as him—wherein he'll have to woo her—he's totally on board. Because as silly as it sounds to most people in his life, Rishi wants to be arranged, believes in the power of tradition, stability, and being a part of something much bigger than himself.

The Shahs and Patels didn't mean to start turning the wheels on this "suggested arrangement" so early in their children's lives, but when they noticed them both gravitate toward the same summer program, they figured, Why not?

Dimple and Rishi may think they have each other figured out. But when opposites clash, love works hard to prove itself in the most unexpected ways.
If you have dimples, then the reading of this book is going to make them go crazy as you smile so much!😃
---
5. Noteworthy by Riley Redgate🎧
A cappella just got a makeover.

Jordan Sun is embarking on her junior year at the Kensington-Blaine Boarding School for the Performing Arts, hopeful that this will be her time: the year she finally gets cast in the school musical. But when her low Alto 2 voice gets her shut out for the third straight year—threatening her future at Kensington-Blaine and jeopardizing her college applications—she's forced to consider nontraditional options.

In Jordan's case, really nontraditional. A spot has opened up in the Sharpshooters, Kensington's elite a cappella octet. Worshipped…revered…all male. Desperate to prove herself, Jordan auditions in her most convincing drag, and it turns out that Jordan Sun, Tenor 1, is exactly what the Sharps are looking for.

Jordan finds herself enmeshed in a precarious juggling act: making friends, alienating friends, crushing on a guy, crushing on a girl, and navigating decades-old rivalries. With her secret growing heavier every day, Jordan pushes beyond gender norms to confront what it means to be a girl (and a guy) in a male-dominated society, and—most importantly—what it means to be herself.
It's funny, diverse, and it has awesome characters and messages. What more could you possibly WANT?!😉
---
6. The Upside of Unrequited by Becky Albertalli💁
Seventeen-year-old Molly Peskin-Suso knows all about unrequited love—she's lived through it twenty-six times. She crushes hard and crushes often, but always in secret. Because no matter how many times her twin sister, Cassie, tells her to woman up, Molly can't stomach the idea of rejection. So she's careful. Fat girls always have to be careful.

Then a cute new girl enters Cassie's orbit, and for the first time ever, Molly's cynical twin is a lovesick mess. Meanwhile, Molly's totally not dying of loneliness—except for the part where she is. Luckily, Cassie's new girlfriend comes with a cute hipster-boy sidekick. Will is funny and flirtatious and just might be perfect crush material. Maybe more than crush material. And if Molly can win him over, she'll get her first kiss and she'll get her twin back.

There's only one problem: Molly's coworker Reid. He's an awkward Tolkien superfan with a season pass to the Ren Faire, and there's absolutely no way Molly could fall for him. Right?
Becky Albertalli's books are both fabulously fluffy and they will make you smile like crazy! That obviously makes for great summery reads!💜
---
7. Just One Day by Gayle Forman🇫🇷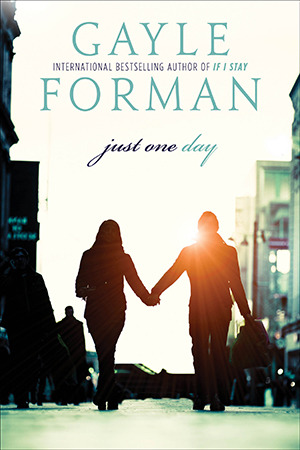 From the New York Times bestselling author of If I Stay

Allyson Healey's life is exactly like her suitcase—packed, planned, ordered. Then on the last day of her three-week post-graduation European tour, she meets Willem. A free-spirited, roving actor, Willem is everything she's not, and when he invites her to abandon her plans and come to Paris with him, Allyson says yes. This uncharacteristic decision leads to a day of risk and romance, liberation and intimacy: 24 hours that will transform Allyson's life.

A book about love, heartbreak, travel, identity, and the "accidents" of fate, Just One Day shows us how sometimes in order to get found, you first have to get lost. . . and how often the people we are seeking are much closer than we know.

The first in a sweepingly romantic duet of novels. Willem's story—Just One Year—is coming soon!
Feeling wanderlust? Then Gayle Forman's Just One Day is going to sweep you off your feet and bring you to France and back!💞🙈
---
8. The Replacement Crush by Lisa Brown Roberts📖
True love can't be strategized.

After book blogger Vivian Galdi's longtime crush pretends their secret summer kissing sessions never happened, Vivian creates a list of safe crushes, determined to protect her heart.

But nerd-hot Dallas, the sweet new guy in town, sends the mission and Vivian's zing meter into chaos. While designing software for the bookstore where Vivian works, Dallas wages a counter-mission.

Operation Replacement Crush is in full effect. And Dallas is determined to take her heart off the shelf.
This book is such a perfect one for the summertime, especially for book bloggers as they will get to relate to protagonist Viv, who is also a book blogger! Such fluff!💙
---
9. The Summer I Turned Pretty by Jenny Han☀️
Belly measures her life in summers. Everything good, everything magical happens between the months of June and August. Winters are simply a time to count the weeks until the next summer, a place away from the beach house, away from Susannah, and most importantly, away from Jeremiah and Conrad. They are the boys that Belly has known since her very first summer–they have been her brother figures, her crushes, and everything in between. But one summer, one terrible and wonderful summer, the more everything changes, the more it all ends up just the way it should have been all along.
Pretty much any Jenny Han book would work, but this series is super adorable, heartfelt, and awesome for a nice day relaxing on the beach.⭐️
---
10. Girl out of Water by Laura Silverman🌊
Anise Sawyer plans to spend every minute of summer with her friends: surfing, chowing down on fish tacos drizzled with wasabi balsamic vinegar, and throwing bonfires that blaze until dawn. But when a serious car wreck leaves her aunt, a single mother of three, with two broken legs, it forces Anise to say goodbye for the first time to Santa Cruz, the waves, her friends, and even a kindling romance, and fly with her dad to Nebraska for the entire summer. Living in Nebraska isn't easy. Anise spends her days caring for her three younger cousins in the childhood home of her runaway mom, a wild figure who's been flickering in and out of her life since birth, appearing for weeks at a time and then disappearing again for months, or even years, without a word.

Complicating matters is Lincoln, a one-armed, charismatic skater who pushes Anise to trade her surfboard for a skateboard. As Anise draws closer to Lincoln and takes on the full burden and joy of her cousins, she loses touch with her friends back home – leading her to one terrifying question: will she turn out just like her mom and spend her life leaving behind the ones she loves
This book seriously has it all. I command you all to pick it up and use it to experience the glory of summer reading!👌
---
So tell me, have you read any of these books? Opinions? What are some of your favourite summery, light reads? Let me know in the comments below.
Au revoir!💜