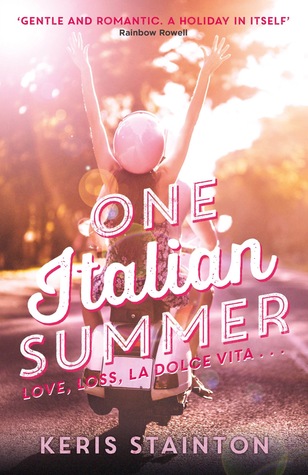 Title: One Italian Summer
Author: Keris Stainton
Genre & Age Group: Contemporary, romance, young adult
Goodreads Synopsis:
It's been a year since Milly, Elyse and Leonie's dad died, and a year since their last trip to Rome. Summer's here again, and once again they are heading with their mum to Italy – but what's it going to be like going without Dad? Rome still holds its familiar charms – the sun is still as warm, the gelato as delicious, the people as welcoming. But nothing is quite as it once was …

With grief still raw for all of them, Milly is facing the additional awfulness of having to see Luke again – gorgeous, gorgeous Luke, who she had a fling with last year, and who she made a total fool of herself with – or so she thinks. What's going to happen this time? What's more, things between Milly, her sisters and their mum are rocky – Leonie is being tempestuous and unpredictable, Elyse is caught up with her new boyfriend, and Milly feels like she just doesn't know how she fits in any more.

Over one Italian summer, can Milly find a way back to the life she once had?
Source: Thanks so much to Bonnier Zaffre/Hot Key Books for providing me with an e-ARC of this book via Netgalley!
How I Found Out About It: Netgalley
One Italian Summer was such an uplifting, adorable story. The second I saw it on Netgalley, I knew I needed it in my hands. Visiting Italy has always been one of my dreams, and I was so happy to be able to in this book!
To briefly synopsize the story, it follows a teenage girl named Millie whose family travels to Rome, Italy almost every year. This year, though, will be her first time going after her dad passed away, and she is scared that it will be different and just not as fun as it used to be. Adding in being scared to see a guy whom she'd hooked up with the year before, Millie has even more to be anxious about. Will Milly be able to find herself again through all of this mess?
I have to say that I was really fond of Millie. Her sweetness and loyalty stunned me, and even though her dad's death did get her upset once in a while, I believe that she was able to work through it and distract herself very well. I definitely saw bits and pieces of myself in her, and that is one thing I love about certain book protagonists.
Although I'm not completely sure if Millie and the love interest Luke were *the best* for each other, the romance was definitely still noteworthy and cute. I don't think it was this book's best quality, though.
As for the plot, there honestly weren't a ton of notable events in this story- it mainly focused on the characters, especially Millie mourning over her late father. But then again, most contemporaries I read don't have the most frivolous plots, so it's totally fine with me!☺️
Also, may I take a second to talk about the FAMILY TIES in this book?! I absolutely loved Millie's relationships with her remaining family members. Despite the fact that her dad's death kind of ripped them apart, I loved seeing them brought back together by the end of the book.
The one tiny thing that bugged me about this book was that yes, it was set in Italy, but there were very limited descriptions of the country. I wanted to hear more about the beauty of a place that Italy is! All it takes is one extra page to describe all of Millie's beautiful surroundings, come on!
All in all, One Italian Summer did not disappoint at all, and I enjoyed it immensely. From its strong characters to its family ties, there is truly something in this book for all YA contemporary lovers. So, if you dream of going to Italy, you'll get an awesome chance to in this book once it is published on May 4th, 2017!☺️
*I received a digital ARC of this book via Netgalley in exchange for an honest review.*