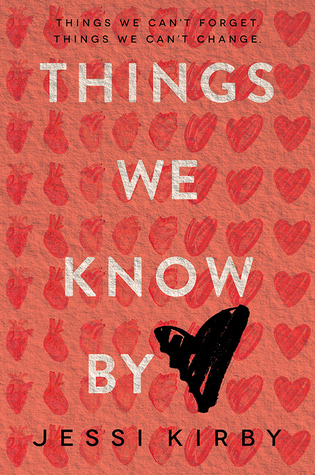 Title: Things We Know by Heart
Author: Jessi Kirby
Genre & Age Group: Contemporary, romance, young adult
Goodreads Synopsis:
When Quinn Sullivan meets the recipient of her boyfriend's donated heart, the two form an unexpected connection.

After Quinn loses her boyfriend, Trent, in an accident their junior year, she reaches out to the recipients of his donated organs in hopes of picking up the pieces of her now-unrecognizable life. She hears back from some of them, but the person who received Trent's heart has remained silent. The essence of a person, she has always believed, is in the heart. If she finds Trent's, then maybe she can have peace once and for all.

Risking everything in order to finally lay her memories to rest, Quinn goes outside the system to track down nineteen-year-old Colton Thomas—a guy whose life has been forever changed by this priceless gift. But what starts as an accidental run-in quickly develops into more, sparking an undeniable attraction. She doesn't want to give in to it—especially since he has no idea how they're connected—but their time together has made Quinn feel alive again. No matter how hard she's falling for Colton, each beat of his heart reminds her of all she's lost…and all that remains at stake.
Source: Public library
How I Found Out About It: Goodreads/Blogging
Upon my first glimpse at this book's synopsis, I wasn't fully convinced to pick it up. I don't know, something about it just steered me away. One day, however, I had a change of heart- I couldn't resist seeing what was behind that adorable cover. In brief, my process of picking up Things We Know by Heart was due to a big case of cover love!
This book blew me away, and even that is an understatement. After having read this one, one thing I can say for sure is that it has earned a special spot in my heart. Almost everything about it was absolutely perfect- I felt extremely engaged and emotionally connected to its plot and characters.
To provide a brief synopsis of the story, it follows the footsteps of a girl named Quinn. Her boyfriend Trent had gotten killed in a car accident a year earlier, leaving her wretched. His organs were all given out, and Quinn reaches out to those who received them so she could still feel in touch with Trent. To get some closure on his death, she seeks out Colton, the recipient of his heart. Soon enough, she finds herself falling in love with him- same heart, but two different people. But Colton has no idea that it was her boyfriend whose heart he'd been given…
I liked Quinn as she was extremely kind, however I didn't particularly appreciate the fact that she kept the secret about her boyfriend's heart from Colton for so long. Nevertheless, I do understand that it was to have a bond with him without all of the pressure from the loss of Trent, and thus I respect this. In my opinion, everything else about her made her very likeable and memorable.
I LOVED Colton even more than Quinn! He'd gone through so much trouble and yet stayed so strong, and while reading I could just picture him as this gorgeous, dreamy-looking guy. I shipped Quinn and Colton so hard, but at the same time I wanted a little bit of Colton all to myself. Do you get what I'm saying?!
This book had the perfect length and pacing. At just over 300 pages, even the slowest readers will be able to finish this book in a jiffy. I was kept on my toes and sucked in throughout the entire story. I also found that the writing was straight to the point and very engaging. Every word had its relevance in the novel, and I much prefer that to books that go on and on about how a character's outfit looked that day.
To sum it all up, if I had the time and the patience to, I would learn every word of this book by heart. It was absolutely astonishing and I doubt I could have had a better time reading it. Unlike many fluffy books I read, this one definitely gave me some feels but stayed fluffy at the same time- it had great emotional balance! If you are into gushy and cheesy (in a good way) contemporaries that break your heart in the beginning and then sew it back together by the end, then Things We Know by Heart is the one for you.