Hi everyone!👋
I have been tagged by two amazing bloggers to do the My Name in TBR Books Tag! Thanks so much to Icebreaker694 and Sam @ River-Moose-Reads! I am absolutely enamoured by both of their blogs, so be sure to check them out!💜
So, sit back, relax, and see what books fall under my TBR of shame.🙈
---
K- Kindred Spirits by Rainbow Rowell
'Everybody likes everything these days. The whole world is a nerd.'
'Are you mad because other people like Star Wars? Are you mad because people like me like Star Wars?'
'Maybe.'

If you broke Elena's heart, Star Wars would spill out. So when she decides to queue outside her local cinema to see the new movie, she's expecting a celebration with crowds of people who love Han, Luke and Leia just as much as she does. What she's not expecting is to be last in a line of only three people; to have to pee into a collectible Star Wars soda cup behind a dumpster or to meet that unlikely someone who just might truly understand the way she feels. Kindred Spirits is an engaging short story by Rainbow Rowell, author of the bestselling Eleanor & Park, Fangirl and Carry On, and is part of a handful of selected short reads specially produced for World Book Day.
Agh, I want to read this one so badly but I can't find it ANYWHERE! I love Rainbow Rowell and I know I would love this book, but all I need to do is get my hands on it!😩
---
A- Alex, Approximately by Jenn Bennett
The one guy Bailey Rydell can't stand is actually the boy of her dreams—she just doesn't know it yet.

Classic movie fan Bailey "Mink" Rydell has spent months crushing on a witty film geek she only knows online as Alex. Two coasts separate the teens until Bailey moves in with her dad, who lives in the same California surfing town as her online crush.

Faced with doubts (what if he's a creep in real life—or worse?), Bailey doesn't tell Alex she's moved to his hometown. Or that she's landed a job at the local tourist-trap museum. Or that she's being heckled daily by the irritatingly hot museum security guard, Porter Roth—a.k.a. her new archnemesis. But life is a whole lot messier than the movies, especially when Bailey discovers that tricky fine line between hate, love, and whatever it is she's starting to feel for Porter.

And as the summer months go by, Bailey must choose whether to cling to a dreamy online fantasy in Alex or take a risk on an imperfect reality with Porter. The choice is both simpler and more complicated than she realizes, because Porter Roth is hiding a secret of his own: Porter is Alex…Approximately.
I have been wanting to read this one for a while, but I just haven't had the time! I have heard such amazing things about it, so I hope to get to it soon.🙂
---
Y- Can't find any😕
---
L- Leah on the Offbeat by Becky Albertalli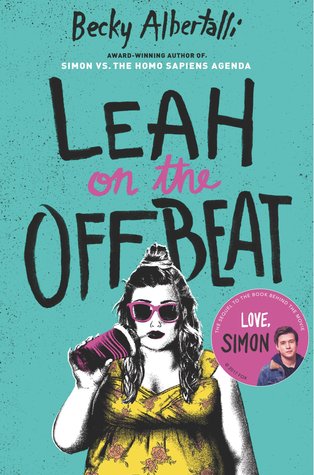 Leah Burke—girl-band drummer, master of deadpan, and Simon Spier's best friend from the award-winning Simon vs. the Homo Sapiens Agenda—takes center stage in this novel of first love and senior-year angst.

When it comes to drumming, Leah Burke is usually on beat—but real life isn't always so rhythmic. An anomaly in her friend group, she's the only child of a young, single mom, and her life is decidedly less privileged. She loves to draw but is too self-conscious to show it. And even though her mom knows she's bisexual, she hasn't mustered the courage to tell her friends—not even her openly gay BFF, Simon.

So Leah really doesn't know what to do when her rock-solid friend group starts to fracture in unexpected ways. With prom and college on the horizon, tensions are running high. It's hard for Leah to strike the right note while the people she loves are fighting—especially when she realizes she might love one of them more than she ever intended.
Ahhh, I can't wait for this book to come out! I adore Becky Albertalli's writing and I loved Simon vs. the Homo Sapiens Agenda (and Love, Simon)! I know she will not fail to impress me with this book.❤️
---
A- Autoboyography by Christina Lauren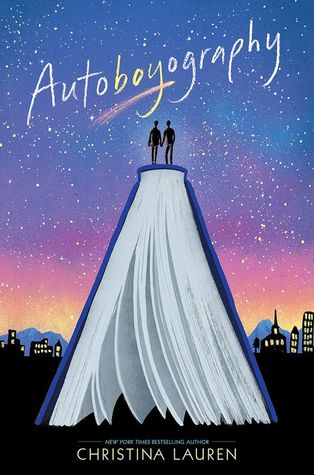 Three years ago, Tanner Scott's family relocated from California to Utah, a move that nudged the bisexual teen temporarily back into the closet. Now, with one semester of high school to go, and no obstacles between him and out-of-state college freedom, Tanner plans to coast through his remaining classes and clear out of Utah.

But when his best friend Autumn dares him to take Provo High's prestigious Seminar—where honor roll students diligently toil to draft a book in a semester—Tanner can't resist going against his better judgment and having a go, if only to prove to Autumn how silly the whole thing is. Writing a book in four months sounds simple. Four months is an eternity.

It turns out, Tanner is only partly right: four months is a long time. After all, it takes only one second for him to notice Sebastian Brother, the Mormon prodigy who sold his own Seminar novel the year before and who now mentors the class. And it takes less than a month for Tanner to fall completely in love with him.
This book is coming for me at the library, and I couldn't be more excited! Bloggers have been raving about it and I can't wait to (hopefully) join them!😄
---
I tag…
2. Malanie @ Malanie Loves Fiction
Although I understand it if you have already done this tag or don't feel like doing it, I would still love to see what's on your TBR!😉
---
So tell me, have you read any of these books? Opinions? Anyone know where to find Kindred Spirits? Let me know in the comments below.
Au revoir!💜