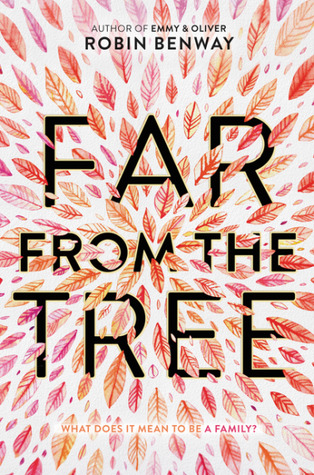 Title: Far from the Tree
Author: Robin Benway
Genre & Age Group: Contemporary, young adult
Goodreads Synopsis:
A contemporary novel about three adopted siblings who find each other at just the right moment.

Being the middle child has its ups and downs.

But for Grace, an only child who was adopted at birth, discovering that she is a middle child is a different ride altogether. After putting her own baby up for adoption, she goes looking for her biological family, including—

Maya, her loudmouthed younger bio sister, who has a lot to say about their newfound family ties. Having grown up the snarky brunette in a house full of chipper redheads, she's quick to search for traces of herself among these not-quite-strangers. And when her adopted family's long-buried problems begin to explode to the surface, Maya can't help but wonder where exactly it is that she belongs.

And Joaquin, their stoic older bio brother, who has no interest in bonding over their shared biological mother. After seventeen years in the foster care system, he's learned that there are no heroes, and secrets and fears are best kept close to the vest, where they can't hurt anyone but him.
Source: Public library
---
First and foremost, can we just take a moment to admire that gorgeous cover? Like AHHHHH! The second I first saw it, I knew I needed to check out what was hiding behind it. To add on to that initial cover love, I really enjoyed Robin Benway's previous novel, Emmy & Oliver, so I had extremely high expectations for Far from the Tree.
I'm so happy to say that my expectations were met! Just like the cover, Far from the Tree was a gorgeous story all about the true meaning of family. It was awesome and I have already recommended it to many people, and I will not cease to recommend it to even more!
This story basically follows the perspectives of three teens who were given up by their biological mother as babies. First, there's Grace, a teen who has just given birth and is giving up her baby for adoption. Next, there's Maya, who has since been adopted into a new family but sometimes feels like she isn't really part of it, and Joaquin, who has been traveling between foster homes for as long as he can remember. When Grace decides to find her biological family, Maya and Joaquin are the siblings she finds, and the three of them form a remarkable bond.
Through Grace's perspective, I sensed the remorse that she had at times due to the fact that she had given up her baby. Since she herself was given up at a very young age and did not know her biological family, she did not want her baby to feel the same way. I absolutely loved Grace, though. She was literally the sweetest character and if she were to come to life, I would love to become friends with her and tell her that everything would be okay in the end.
I also loved Maya as she was a very authentic character, who was never afraid to let her inner self shine through. Even though she did end up getting adopted after being given up, her family was still a tad troubled as her parents were having issues. Despite this, she still stayed strong and pushed through, which I really admired!
It took me a while to warm up to Joaquin– there was just something about his personality that irked me a tiny bit. However, I did find myself enjoying his presence by the end of the novel. Some of the stories he told about his experience in foster care were really sad, and I felt so sorry for him!
Although I loved the strong characters that this book had to offer, one setback is that I wanted to see a bit more LGBTQ+ representation. Even though Maya was lesbian, it could have been interesting to see more LGBTQ+ couples within Joaquin's foster homes, for instance. Anywho, that would just be a tiny suggestion of mine- the book was still fantastic!
Overall, Far from the Tree was an amazing novel that deserves all the praise that it has been getting. The three main characters share a magnificent bond and undergo intense character development, and this book teaches a lot about meaningful relationships and what a true family really is. I would highly recommend this novel for those who enjoy family and friend-centric stories- it is simply a story with that extra special 'wow' factor.
---
Rating:
🌲🌲🌲🌲.5