Hi everyone!🙂
I would like to thank the awesome Book Ninja for tagging me to partake in the ACOTAR (A Court of Thorns and Roses) Series Book Tag! Their blog is wonderful, so definitely do check it out when you have the chance to!🙂
Many of you know that I am not a big fan of fantasy- hence, I haven't really considered reading this series. Almost every other blogger on earth adores it, but I'm on the fence about reading it- I don't want to be disappointed by yet another fantasy book.😕
So let's get on with the tag!
---
Lucien (Pick a book that fits more than one genre)
I would say that Cinder is borderline sci-fi/fantasy/romance. Despite it having elements of fantasy, however, I adored it!
---
 Tamlin (Pick a book with a nice cover but you didn't like what was inside)
Bone Gap has such a cool and intriguing cover, so naturally, I wanted to see what was inside. It ended up being just such a weird story, and I didn't get it…? I will be writing a full review for it soon.
---
Amarantha (Pick a book that haunts you in a good or bad way)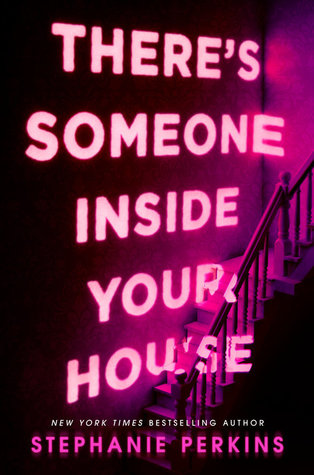 Even though I enjoyed this one, its premise is extremely haunting!🙀
---
King of Hybern (Pick a book with a lot of bloodshed)
I don't read many violent books, so I'm again going with There's Someone Inside Your House!
---
Amren (Pick a book that you don't know a lot about)
Under the Never Sky has been on my TBR for ages, but I barely know what it's about, haha! I should go through my TBR sometime soon and weed out the books I'm no longer interested in.😂
---
Mor (Pick a memoir)
Shoutout to my Aunty Robyn for writing this incredible memoir! I love and miss you so much!💜😘
---
Rhsyand (Pick a book that you have a bond with)
I definitely bonded with Sharon Huss Roat's How to Disappear! It was just so good!😍
---
Feyre (Pick a book that got you into reading)
Geek Girl was one of the first YA books I read, and it opened up a huge door for me.💘There are wayyyyy too many books to name if you want me to talk about how I got into reading as a child, though!😂
---
Spring Court (Pick a book that you read during the spring)
I read this book last April and really enjoyed it!
---
Night Court (Pick a book that you read way into the night)
To save myself from being groggy and grumpy in the mornings, I do not read books into the night. I need my beauty sleep!😂
---
I tag…
None of you are obliged to complete this tag, but I would love to read your answers!💘
---
So tell me, have you read any of these books? Opinions? What are your thoughts on night reading? Should I suck it up and read the ACOTAR series? Let me know in the comments below.
Au revoir!💜