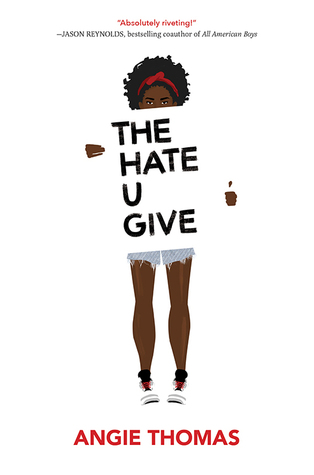 Title: The Hate U Give
Author: Angie Thomas
Genre & Age Group: Contemporary, young adult
Goodreads Synopsis:
Sixteen-year-old Starr Carter moves between two worlds: the poor neighborhood where she lives and the fancy suburban prep school she attends. The uneasy balance between these worlds is shattered when Starr witnesses the fatal shooting of her childhood best friend Khalil at the hands of a police officer. Khalil was unarmed.

Soon afterward, his death is a national headline. Some are calling him a thug, maybe even a drug dealer and a gangbanger. Protesters are taking to the streets in Khalil's name. Some cops and the local drug lord try to intimidate Starr and her family. What everyone wants to know is: what really went down that night? And the only person alive who can answer that is Starr.

But what Starr does or does not say could upend her community. It could also endanger her life.
Source: Bought at Indigo
---
I've got to say that it was hype that drew me into this book, as well as its intriguing, important premise. It is quite unfortunate that this world is not yet completely ridden of discrimination and racism and that some people can't just get along with each other easily. However, I am extremely glad that The Hate U Give exists to shed light and awareness onto this devastating issue. A lot of amazing things have already been said by many reviewers about this book, but I am going to be sharing my two cents, as well.
For those who don't know what this book is about, it centres around a high schooler named Starr. Although she lives in a less wealthy neighbourhood, she attends school in a more well-off area. When her friend Khalil is killed by a police officer, Starr decides that it's time to take action, and to fight on behalf of her friend. However, people want the blunt truth, and Starr is finding it hard to give it to them.
I loved the strong heroine Starr and how much she developed throughout the novel. She started off as timid and unassertive yet grew immensely, taking the lessons she learned from Khalil's death into heart and thinking of him through her every action. Although I may not always think this way in every situation as I tend to avoid conflict, in situations like these, conflict is worth it to get people to speak up for what they believe in and to instill courage in their mindset. My heart broke for Starr as she coped through her devastating loss, but at the same time, I was cheering for her the entire time as she constantly had her courage and perseverance on display.
Although the plot of this book was slow and a tad drawn out, every word was worth it. In most books I often skim over the unimportant details, but I found this one to be so compelling that I just couldn't do that! I felt the urge to pay attention to every tiny thing, which made the reading process a bit slower, but hey, again, it was so worth it!
All in all, if you could only pick up one book this year, it by far needs to be this one. This book was beyond amazing and it has become a brand new favourite of mine! The circumstances surrounding this story are horrible, but what this book emphasizes is that it is up to US to do what's right and take a stand, even if it is threatening to ourselves. If you are looking for an inspiring, compelling read that is all about listening to your conscience and doing what is right, The Hate U Give is one that must be read.
---
Rating:
🌟🌟🌟🌟🌟
---
What do you think about books that cover serious social issues? Yay or nay? If you've read this book, what did you think about it?