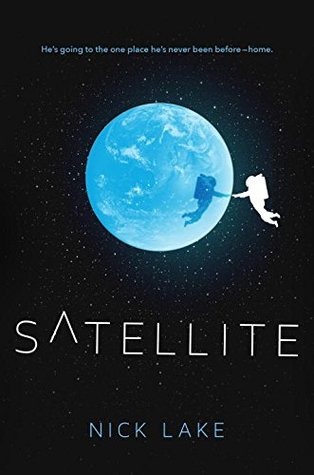 Title: Satellite
Author: Nick Lake
Genre & Age Group: Science fiction, young adult
Goodreads Synopsis:
A teenage boy born in space makes his first trip to Earth.

He's going to a place he's never been before: home.

Moon 2 is a space station that orbits approximately 250 miles above Earth. It travels 17,500 miles an hour, making one full orbit every ninety minutes. It's also the only home that fifteen-year-old Leo and two other teens have ever known.

Born and raised on Moon 2, Leo and the twins, Orion and Libra, are finally old enough and strong enough to endure the dangerous trip to Earth. They've been "parented" by teams of astronauts since birth and have run countless drills to ready themselves for every conceivable difficulty they might face on the flight.

But has anything really prepared them for life on terra firma? Because while the planet may be home to billions of people, living there is more treacherous than Leo and his friends could ever have imagined, and their very survival will mean defying impossible odds.
Source: Thanks so much to Indigo Books & Music Inc. for providing me with a physical ARC of this book!
---
Sci-fi books and I don't always get along- they are either wins or losses for me. However, I have read very few books that take place in outer space, so when I requested this book, I was so excited to read about characters who come from another part of the universe! For the most part, I am quite happy to say that I really enjoyed my time reading Satellite.
For a brief summary of the novel, it revolves around a teenage boy named Leo, who has spent his whole life living on a space station called Moon 2. Since Leo and two of his friends have reached the age and strength they'd need to take a trip to Planet Earth, they are all for it, taking numerous drills to prepare themselves. Will survival come easily to them while on Earth, or will they have to work extra hard to keep up with their lives?
I liked the brave and determined main character Leo and his space gang, and I loved the adventures that they went on, how they found themselves, and how they improved their relationships with each other throughout these journeys. The amount of character development in this novel was phenomenal, and I was extremely thankful to have witnessed it.
In spite of these characters, the book was written using mostly lowercase letters and texting language, and this took me a little while to get used to– it could get somewhat annoying. The plot also went by quite slowly, leaving me a tad bored at times. However,  the story overall had quite an interesting, fun, and captivating plot.
All in all, Satellite is that novel about space that you didn't know you were even looking for. There is no denying that it is flawed in some respects, but the irresistible bonds between the characters and the intriguing premise will definitely have you on your feet, cheering for Leo and his crew and wondering what it would be like to live on the extraterrestrial Moon 2!
---
Rating:
🚀🚀🚀.5
---
What are some books you've read that explore outer space? Any you'd recommend?💞
*I received an advanced reader copy of this book from Indigo Books & Music Inc. in exchange for an honest review.*