Hi everyone!💘
I think it's safe to say that I've been in a bit of a reading and blogging slump lately. I have been reading some books that I found to be simply mediocre, and because of exams, I have barely had time to write any blog posts. Therefore, I have a queue of book reviews waiting to be written, many of which are for dull and bland books. So, to make things simpler for myself and for you guys, I decided to combine all of them into this post of short and sweet reviews.
So let's get started!
---
1. Ashes, Ashes by Jo Treggiari: 🌟🌟
Genre & Age Group: Dystopian, post-apocalyptic, young adult
Goodreads Synopsis:
Epidemics, floods, droughts – for sixteen-year-old Lucy, the end of the world came and went, taking 99% of the population with it. As the weather continues to rage out of control, and Sweepers clean the streets of plague victims, Lucy survives alone in the wilds of Central Park. But when she's rescued from a pack of hunting dogs by a mysterious boy named Aidan, she reluctantly realizes she can't continue on her own. She joins his band of survivors, yet, a new danger awaits her: the Sweepers are looking for her. There's something special about Lucy, and they will stop at nothing to have her.
Source: School library
Review:
Post-apocalyptic books and I just do not mesh– and this was a great example of that. I just found this book to be really weird, not to mention that it bored me to the point when I almost fell asleep while reading it. Since I read this book over a month ago as I write this, I have already forgotten so much of the story. If it weren't for the handy synopsis, I wouldn't even have been able to remember the main character's name. The characters were just so bland and so was the plot- or lack thereof. As much as I wanted to catch onto the big picture and underlying message of this novel, the details and descriptions were just too much for me to enjoy. Unfortunately, Ashes, Ashes wasn't for me, but I would recommend it to readers who are more into post-apocalyptic and darker reads.
---
2. Turtles All the Way Down by John Green: 🐢🐢🐢.5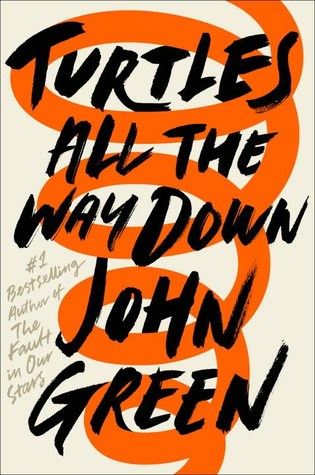 Genre & Age Group: Contemporary, romance, young adult
Goodreads Synopsis:
#1 bestselling author John Green returns with his first new novel since The Fault in Our Stars!

Sixteen-year-old Aza never intended to pursue the mystery of fugitive billionaire Russell Pickett, but there's a hundred-thousand-dollar reward at stake and her Best and Most Fearless Friend, Daisy, is eager to investigate. So together, they navigate the short distance and broad divides that separate them from Russell Pickett's son, Davis.

Aza is trying. She is trying to be a good daughter, a good friend, a good student, and maybe even a good detective, while also living within the ever-tightening spiral of her own thoughts.

In his long-awaited return, John Green, the acclaimed, award-winning author of Looking for Alaska and The Fault in Our Stars, shares Aza's story with shattering, unflinching clarity in this brilliant novel of love, resilience, and the power of lifelong friendship.
Source: Public library
Review:
I wanted to love Turtles All the Way Down so much. I wanted it to become a new favourite, reigning alongside Looking for Alaska. Unfortunately, that is not what ended up happening with this book. Having read it during a reading slump may have contributed to this cause, but I was just highly unmotivated to read it at times. It wasn't that it was a bad book, but it was just a bit too philosophical for my tastes. I'm just not that much of an abstract thinker, you know?
Though others may feel otherwise, I found this book to be a bit uneventful and repetitive. For one example, there were too many weird poems written on one of the character's blogs, and I didn't really grasp the meaning of most of them.  Anyway, on the good side of things, mental health was portrayed beautifully, the writing was elegant (though I didn't always get the metaphors and there were A LOT of philosophical rambles), and the protagonist Aza developed and benefited from the storyline immensely. If you are a more philosophical and abstract thinker, then I believe that this book would coincide with your bookish values a lot more than they did with mine!
---
3. The Best Kind of Magic by Crystal Cestari- 🎩🎩.5
Genre & Age Group: Contemporary, magical realism, romance, young adult
Goodreads Synopsis:
Amber Sand is not a witch. The Sand family Wicca gene somehow leapfrogged over her. But she did get one highly specific magical talent: she can see true love. As a matchmaker, Amber's pretty far down the sorcery food chain (even birthday party magicians rank higher), but after five seconds of eye contact, she can envision anyone's soul mate.

Amber works at her mother's magic shop–Windy City Magic–in downtown Chicago, and she's confident she's seen every kind of happy ending there is: except for one–her own. (The Fates are tricky jerks that way.) So when Charlie Blitzman, the mayor's son and most-desired boy in school, comes to her for help finding his father's missing girlfriend, she's distressed to find herself falling for him. Because while she can't see her own match, she can see his–and it's not Amber. How can she, an honest peddler of true love, pursue a boy she knows full well isn't her match?

The Best Kind of Magic is set in urban Chicago and will appeal to readers who long for magic in the real world. With a sharp-witted and sassy heroine, a quirky cast of mystical beings, and a heady dose of adventure, this novel will have you laughing out loud and questioning your belief in happy endings.
Source: Public library
Review:
The synopsis of this book is so deceiving- there are definitely things that rung true for me while reading, but some things weren't true at all. For instance, this book did not have me laughing out loud or questioning my belief in happy endings, but I do long for magic in the real world, haha! My reading experience was similar- there were some things I liked, but some aspects I just did not vibe with. 
Some things I liked:
It was really cool to see how the main character Amber's superpower of matchmaking worked. It was so intriguing!
I liked the setting of Chicago (I REALLY want to go there someday!) and I appreciated how the author included detailed descriptions of this setting.
The romance was cute– although I wouldn't go so far as to say swoon-worthy.
The overall tone of this novel was extremely light and it is a great book to read if you want to kick back, relax, and experience some magic!
Some things that I didn't particularly enjoy about The Best Kind of Magic:
Although I liked her superpowers, I didn't really like Amber herself- she was really whiny and stubborn at times! Not the most agreeable character to read about, I must say.
I am going to forget the other characters in a week from now. They were so bland and personality-less!
There was NO PLOT WHATSOEVER. I had next to no motivation to pick this book up at times because there was barely anything substantial going on.
Despite the light and breezy vibe this book gave off, it was overall just an extremely mediocre and 'meh' read for me.
Even though an intriguing new character was introduced at the end of the novel, I don't feel like I will be picking up the sequel to this book. I'm not sure if I can live through hundreds of pages of Amber's constant complaints and plot blandness again.
---
So tell me, have you read any of these books? If so, what did you think of them? Have you ever just felt like writing short but sweet reviews for books you found to be unimpressive? Let me know in the comments below.
Au revoir!💜