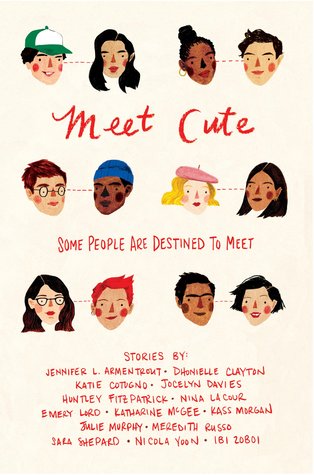 Title: Meet Cute: Some People are Destined to Meet
Author: Various
Genre & Age Group: Contemporary, romance (including LGBTQ+), anthology, young adult
Source: Thanks so much to Indigo Books & Music Inc. for providing me with a physical ARC of this book in exchange for an honest review!
First, I will be reviewing each of the short stories individually:
1. Siege Etiquette by Katie Cotugno- 3/5 Stars
This short story is about a popular girl named Hailey who finds herself locked inside of a bathroom at a party with a schoolmate named Wolf. Honestly, I didn't love how the story was in second-person perspective– I really don't think that did anything for the whole realm of the plot. Hailey also had a boyfriend, so I didn't like the way she acted with Wolf. I do really like Katie Cotugno's writing style, though, and I do still want to pick up more of her works.
2. Print Shop by Nina LaCour- 4/5 Stars
This story is about a girl named Evie who gets a job at a print shop that has to fix a banner for a student principal. On the store's newly created Twitter, Evie exchanges tweets with angry customers about this, including the one who ordered it. I really liked Evie because she was extremely altruistic, and always eager to do the right thing. The story also has LGBTQ+ themes, which is great! To add on to this, I loved the authenticity of this story– I can't really explain it, as it was just something I felt, you know what I mean? In spite of all the positives, I didn't love the broad ending of the story and it could have been explained a lot more. I get how people tend to enjoy the open-endedness of these types of stories, but for me it just didn't work. Overall, though, I absolutely loved the story!
3. Hourglass by Ibi Zoboi- 3/5 Stars
In my honest opinion, I found that this story was kind of all over the place. It is basically about a high school senior named Cherish, who is black and 6'5 tall. Due to this, she is often discriminated, and although she wants to find a prom dress, she has trouble fitting into most of the ones she finds. Cherish was an okay character, but I just found her to be kind of bland. I liked how this story was diverse, but it was dull and I just didn't love or completely click with it. I have one of Zoboi's books on my TBR (American Street), so having read this piece of her writing is making me debate whether or not I should read it.
4. Click by Katharine McGee- 4/5 Stars
This is a fun story that takes place in 2020 and is about Alexa and Raden, who are ~supposedly~ dates from a newly invented app called Click. It chronicles their journey in finding Alexa's phone that she'd left inside of a cab, in which she has an avatar of her late sister backed up on a chip. Though a tad too futuristic for me to consider it being in two years (e.g. all of the avatars and phone chips), I really enjoyed it. Alexa and Raden just clicked (get it?) so well, and out of all of the stories, the romance in this one was one of my favourites! I have never read a Katharine McGee novel before, but this strongly written story of hers has convinced me to pick up The Thousandth Floor.
5. The Intern by Sara Shepard- 4/5 Stars
This story follows a teenage girl named Clara, who is an intern at a record label. Through her boss, she meets a client named Phineas who is in a rock band. First of all, I must say that I LOVED Phineas. He was super sweet, and though Clara was a bit upset because of her mom's death which resulted in her running off from his concert, he left in the middle of a song just to comfort her. Knowing that a boy can be this compassionate just makes me want to swoon! Phineas & Clara just meshed so nicely together! I have *almost* no negative thoughts about this story, but it just didn't have that extra little something to be a five star read in my eyes.
6. Somewhere That's Green by Meredith Russo- 3.5/5 Stars
This is another powerful LGBTQ+ story which follows a transgender female named Nia and a girl named Lexie. Because of her parents' values, Lexie is against Nia being able to use the girls' washrooms, and this causes a conflict between the two of them. The two of them must get along with each other as they are to perform in a play together. At first I was a bit confused about the plot, but I soon caught on and enjoyed the story. I liked Nia's values, but I was iffy about Lexie until the end, but it is very hard for me to elaborate on this without spoiling anything! Anyway, all in all I appreciated the inclusion of this robust story and I would consider picking up more from Meredith Russo.
7. The Way We Love Here by Dhonielle Clayton- 2/5 Stars
I'm so disappointed about my disliking of this story– I don't know what happened with this one because I loved Clayton's novel Tiny Pretty Things! From the second I read the first word, I knew I wouldn't really vibe with this story. It was like Moana and The Little Mermaid combined, and I think that I ultimately just wasn't in the mood for it. It basically follows a girl named Viola who rescues a guy named Sebastien from drowning, and though it wasn't a bad story at all, the writing style and storyline just weren't my taste. However, I am not losing hope in Clayton because I know how great of a writer she can potentially be because of her gorgeous novel.
8. Oomph by Emery Lord- 3.5/5 Stars
This story revolves around a girl named Cass who is flying to university in New York alone for the first time. While in the airport, she meets a girl named Johanna. Since Cass is lesbian, she is fleetingly attracted to Johanna, but deep down she knows that it may not be mutual. I liked how ambitious Cass was in terms of the arts, and I really liked how Johanna gave her a lot of advice about university and interacting with people. However, the story was a bit boring and it did not have much of a plot, and in a few months time when I reflect back on this book, I probably won't remember this story as well as some of the others.
9. The Dictionary of You and Me by Jennifer L. Armentrout- 5/5 Stars
This story was one of my two favourites from this anthology! This one follows a girl named Moss who works at the local library. There is a patron whom she must regularly call to retrieve an overdue dictionary from, and Moss bonds over the phone with this person. When she finds out who the name on the library card really belongs to, she is shocked! This story was seriously so cute! Both of the characters were witty and agreeable, and I loved the setting of the library- I can never go wrong with stories about books! I am happy to say that I have absolutely nothing negative to say about this story, and that I MUST pick up more from Armentrout ASAP!
10. The Unlikely Likelihood of Falling in Love by Jocelyn Davies- 5/5 Stars
I really adored this story, so much so that it counts as my second of two favourites! It centres around a girl named Sam, who is the only girl in her AP stats class. Because she is fleetingly attracted to a guy in a blue sweater whom she sees on the subway one day while going to school, Sam decides to do a project on how many times she is able to see him. Since I love math, I could easily identify with Sam as well as the overall atmosphere of the story. I loved that she balanced between listening to both her heart and her head– I adore a good well-rounded character! Jocelyn Davies is a great writer and I absolutely look forward to reading more from her.
11. 259 Million Miles by Kass Morgan- 4/5 Stars
This interesting and captivating story is about a guy named Philip and a girl named Blythe. Along with many others, these two extremely brainy students apply for a trip to Mars. For their evaluation, the two of them must be locked in a room together for 24 hours to see how they cope under pressure. This was quite a unique read and I really enjoyed my time with it. Both characters were extremely eccentric (in a great way) and I loved the way they bonded! The ending was really sad, though, but it was able to make me show appreciation for what I have in the moment.
12. Something Real by Julie Murphy- 4/5 Stars
This is a story which follows two girls named Martha and June on a reality show competing to get a date with a famous heartthrob singer named Dylan. Martha was a bit scarred from her sister's death, and I loved the fact that June was beyond understanding of this. During the competition, she even tried to help Martha instead of trying to steal the win, which I thought was amazing! However, since the ending was really strange, I cannot grant this story more than 4 stars. Still, I was not disappointed, especially after having devoured Dumplin' by the same author.
13. Say Everything by Huntley Fitzpatrick- 2.5/5 Stars
Though I have enjoyed Huntley Fitzpatrick's novels in the past, unfortunately I just did not mesh with this story of hers. It changed from first-person to second-person repeatedly which really irked me, and I felt as if the plot intentions were not very clear. For a summary, this story follows a girl named Emma who meets a guy named Sean over iced tea, but that is basically the extent of it. The bottom line is that it was extremely boring and confusing for me!
14. The Department of Dead Love by Nicola Yoon- 4/5 Stars
This was an interesting story about a guy named Thomas who goes to see a HeartWorker to determine the cause of his breakup with his ex-girlfriend Samantha. I thought that this story was really, really sweet! I loved the concept of the HeartWorkers, and if I had the patience then it would definitely be something I'd be interested in doing when I'm older. Thomas was a really sweet guy, and from the 20-ish pages of his story that I read, I could not sense any mean bones in him. Nicola Yoon never fails to impress me with her beautiful writing style!
Overall Thoughts of the Novel:
I would absolutely recommend this novel to contemporary romance lovers, as there is something inside this anthology for every type of reader. The authors included all have very different styles of writing, each capturing their readers in different ways. It is likely that readers won't adore every story, but that is fine- the advantage of anthologies is that there are pieces of writing to support the interests of every individual who picks them up! This book has also made me consider several new authors to check out, and I feel all giddy inside because of all of the new books I now want to read! Overall, if you want a happy and sweet read and are in the mood to read writing from many different authors, then Meet Cute is the novel for you.
*I received an advanced reader copy of this book from Indigo Books & Music Inc. in exchange for an honest review.*
---
RATING:
❤️❤️❤️❤️
---
What are some fun anthologies that you've read that have opened doors to new authors for you to read? Do you enjoy anthologies, or would you rather read individual novels?