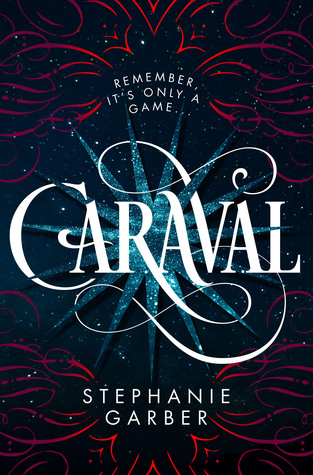 Title: Caraval
Author: Stephanie Garber
Genre & Age Group: Fantasy, romance, young adult
Goodreads Synopsis:
Remember, it's only a game…

Scarlett Dragna has never left the tiny island where she and her sister, Tella, live with their powerful, and cruel, father. Now Scarlett's father has arranged a marriage for her, and Scarlett thinks her dreams of seeing Caraval—the faraway, once-a-year performance where the audience participates in the show—are over.

But this year, Scarlett's long-dreamt-of invitation finally arrives. With the help of a mysterious sailor, Tella whisks Scarlett away to the show. Only, as soon as they arrive, Tella is kidnapped by Caraval's mastermind organizer, Legend. It turns out that this season's Caraval revolves around Tella, and whoever finds her first is the winner.

Scarlett has been told that everything that happens during Caraval is only an elaborate performance. Nevertheless she becomes enmeshed in a game of love, heartbreak, and magic. And whether Caraval is real or not, Scarlett must find Tella before the five nights of the game are over or a dangerous domino effect of consequences will be set off, and her beloved sister will disappear forever.

Welcome, welcome to Caraval…beware of getting swept too far away.
Source: Public library
I know I usually say that I do not have a big tolerance for fantasy novels, but because of all of the great things I'd been hearing about Caraval and since the concept looked somewhat intriguing, I decided to see if it could be an exception.
I am extremely giddy to say that it was! I am so glad to have finally found a fantasy book I enjoyed. I adored the world-building aspect as well as the characters in the novel, and having finished this book is making me ache for the sequel!
To quickly summarize the story, Caraval is basically about a girl named Scarlett, who has been stuck on her island home for her entire life. She lives with her sister Donatella and her father, the latter of whom has dictated a marriage for her, shattering her dreams of ever leaving the land and seeing the wonderful Caraval. Despite this, Donatella tries to find a way to sneak Scarlett out there before she is forced to get married, but she ends up getting kidnapped. Now Scarlett must continue the venture on her own while trying to find her. Will she be able to do this without getting caught and punished?
No matter the type of book, a good main character is a must for my enjoyment, and this novel had just what I was looking for in terms of this. Scarlett was definitely flawed- there's no denying that. However, her triumph and strong-mindedness while experiencing as traumatic of a situation as being left alone to venture within an unfamiliar place was wonderful to read about.
I find that any fantasies I read mostly tend to focus on the action, storyline, and world-building. Not only did this story have that, but it also had glorious family ties! Scarlett and Donatella had the sweetest relationship, and I loved how they were always there for each other. Donatella was so innocent and compassionate so it wasn't surprising that she was kidnapped, but nonetheless, I just wanted to give her warm hugs throughout the entire story!
In spite of my raving about Scarlett and Donatella, one thing that wasn't completely up to par for me in this book was the romance. See, while writing this review I finished the book over a month ago, but I cannot for the heck of me remember the love interest's name. His relationship with Donatella wasn't as strong as it could have been, but as there is a second book coming out (in May- I DON'T WANT TO WAIT!!), I'm predicting that it will advance more as the story continues to unfold.
For my last point, although the plot was slow-paced at times and dragged on a little (it's a long book, what can I say?), the world-building was outstanding! The words Garber used painted crystal clear, beautifully vivid images of the setting, which increased my understanding of the story so much more. I can't wait to jump back into this world again!
All in all, Caraval was the fantasy book that I craved to read after having read so many mediocre and dull ones. It has opened so many new doors for me to explore more similar books, and its characters, sisterhood ties, and world-building just made me so happy! I know this will be a book that I will be recommending to anyone in search of an awesome fantasy novel- Caraval honestly has it all.
---
RATING:
🏰🏰🏰🏰
---
Have you ever been pleasantly surprised by a book you've read outside of your comfort zone? What books have opened doors for you to be comfortable exploring similar ones?