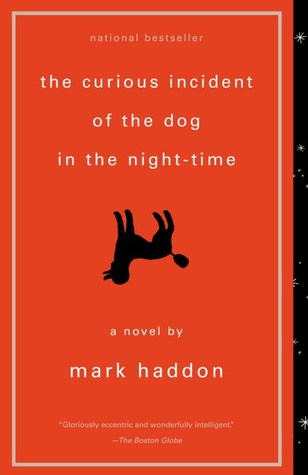 Title: The Curious Incident of the Dog in the Night-time
Author: Mark Haddon
Genre & Age Group: Contemporary, classics, young adult
Goodreads Synopsis:
'Haddon's portrayal of an emotionally dissociated mind is a superb achievement. He is a wise and bleakly funny writer with rare gifts of empathy.'

Christopher John Francis Boone knows all the countries of the world and their capitals and every prime number up to 7,057. He relates well to animals but has no understanding of human emotions. He cannot stand to be touched. Although gifted with a superbly logical brain, Christopher is autistic. Everyday interactions and admonishments have little meaning for him. Routine, order and predictability shelter him from the messy, wider world. Then, at fifteen, Christopher's carefully constructed world falls apart when he finds his neighbor's dog, Wellington, impaled on a garden fork, and he is initially blamed for the killing.

Christopher decides that he will track down the real killer and turns to his favorite fictional character, the impeccably logical Sherlock Holmes, for inspiration. But the investigation leads him down some unexpected paths and ultimately brings him face to face with the dissolution of his parents' marriage. As he tries to deal with the crisis within his own family, we are drawn into the workings of Christopher's mind.

And herein lies the key to the brilliance of Mark Haddon's choice of narrator: The most wrenching of emotional moments are chronicled by a boy who cannot fathom emotion. The effect is dazzling, making for a novel that is deeply funny, poignant, and fascinating in its portrayal of a person whose curse and blessing is a mind that perceives the world literally.

The Curious Incident of the Dog in the Night-Time is one of the freshest debuts in years: a comedy, a heartbreaker, a mystery story, a novel of exceptional literary merit that is great fun to read.
Source: School library
Since I have family members with ASD, I really enjoy reading about it in books and seeing different approaches to it. I was gifted with the opportunity to read this extraordinary novel just not once, but twice. The first time, my English teacher told us that we were going to be reading To Kill a Mockingbird, so since I was disappointed that we weren't going to be reading this one, I whipped it up. About a week after I finished it, she changed her mind and chose this book, so I got to read it again, which was SO WORTH IT.
The Curious Incident of the Dog in the Night-Time was equally as excellent both times around. Although the representation of ASD in this novel may have been slightly generalized, I overall loved the unique perspective and insights the author gives regarding how those with autism perceive their world.
This story is told through the eyes of 15-year old Christopher Boone, who has Asperger's Syndrome. When he finds his neighbour's dog Wellington sprawled on the ground dead, he decides to take charge to see who has killed him by investigating his clues and writing a book about it. Through doing so, he uncovers many secrets not only about Wellington's death, but about himself, his family members, and the world.
It was a great idea for Haddon to write this novel in an eccentric perspective like Christopher's. I found him to be a very interesting character and it was great to see such a different and diverse protagonist for a change. Although Christopher was far from intuitive, it was very refreshing to see a character with a more logical and philosophical approach on life– he is mesmerized by maths and sciences. His quirks made him stand out in the sea of YA characters and I really appreciated this. Yay for diversity!
Because of the unreliable narrator aspect, the plot came with many fun twists and turns. As the adults in Christopher's life gained more and more faith in him, they began to trust him more with secrets about his family life and the world, and many of these uncovered secrets came as complete surprises to me. The book is also short, and I finished it within 2-3 hours when I first read it for pleasure. However, when Christopher went into theoretical applications of math and science concepts, these made the plot run a bit slower, but it was definitely still interesting to get a deep insight on his interests.
All in all, The Curious Incident of the Dog in the Night-Time was a fabulous novel and I definitely agree on the fact that it has become a modern classic in young adult literature. It has a unique main character, it is insightful and teaches the reader a lot about dealing with someone with autism, and the plot is a roller coaster of extremely captivating events. If you're reluctant to read classics, then this is the one to pick up as it isn't dull in the slightest way and it does not fail to resonate with readers. I don't normally reread books, but this was definitely a well-deserved reread!
---
RATING:
🐶🐶🐶🐶🐶
---
Have you read any modern classics? If so, which ones and what did you think of them?❤️