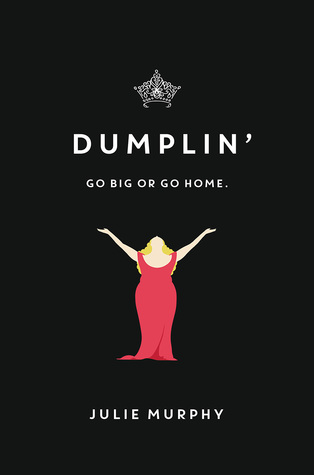 Title: Dumplin'
Author: Julie Murphy
Genre & Age Group: Contemporary, romance, young adult
Goodreads Synopsis:
Self-proclaimed fat girl Willowdean Dickson (dubbed "Dumplin'" by her former beauty queen mom) has always been at home in her own skin. Her thoughts on having the ultimate bikini body? Put a bikini on your body. With her all-American beauty best friend, Ellen, by her side, things have always worked…until Will takes a job at Harpy's, the local fast-food joint. There she meets Private School Bo, a hot former jock. Will isn't surprised to find herself attracted to Bo. But she is surprised when he seems to like her back.

Instead of finding new heights of self-assurance in her relationship with Bo, Will starts to doubt herself. So she sets out to take back her confidence by doing the most horrifying thing she can imagine: entering the Miss Clover City beauty pageant—along with several other unlikely candidates—to show the world that she deserves to be up there as much as any twiggy girl does. Along the way, she'll shock the hell out of Clover City—and maybe herself most of all.

With starry Texas nights, red candy suckers, Dolly Parton songs, and a wildly unforgettable heroine—Dumplin' is guaranteed to steal your heart.
Source: Public library
How I Found Out About It: Goodreads/Blogging
Prior to picking this one up, I had heard from many different readers that this was an empowering, diverse book. I love books like these- books that make me feel a certain positive way. Upon finding it at my public library one day, I knew I had to take it home with me. I couldn't miss a chance at reading Dumplin'!
What I can say is that I totally agree with the majority of other reviewers about this book. It was definitely a strong, powerful novel, however it did have its fair share of flaws that I will cover later on.
Dumplin' basically follows protagonist Willowdean. She has always been a tad overweight, and she has had no problem with this. Upon meeting a gorgeous used-to-be jock named Bo at her new fast food job, though, she finds herself doubting her weight. Although she has never imagined entering her city's beauty pageant that her mom runs, she does just that to regain her confidence.
For the most part, I appreciate that Willowdean was confident and sure of herself, however as I explained, this self-confidence plummets throughout the book. Anyway, I am thankful that she was a loyal friend and that she embraced her flaws instead of covering them up. We don't need any more characters who complain day in and day out- we need more like Willowdean who has an overall positive perspective on things!
WARNING- this is not stated in the synopsis, but this book includes a *rather annoying* love triangle. The two love interests are named Bo and Mitch, and honestly, I preferred Mitch a smidgen more. Unfortunately, though, I read this book too long ago to completely remember why.
I don't have too much to say about the plot. It wasn't slow-moving like a turtle, but at the same time it wasn't as fast as a cheetah either. I guess it was just the perfect pace for me to be able to take in and appreciate all the events, you know?
All in all, in spite of any and all flaws there were in Dumplin', I found that it was a powerful, robust, coming-of-age novel. Willowdean was a great protagonist and I liked her a lot, the plot was paced beautifully, and I forgot to mention this before, but there were strong and incredibly sweet family ties. The love triangle may be annoying, but I will cajole you to devour this story for all the other reasons.