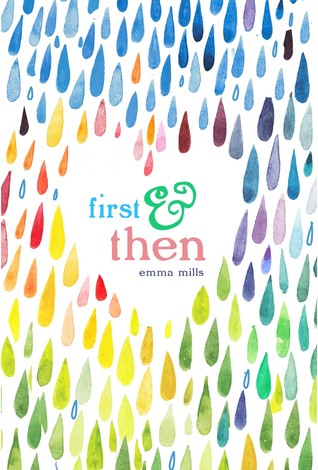 Title: First & Then
Author: Emma Mills
Genre & Age Group: Contemporary, young adult
Goodreads Synopsis:
Devon Tennyson wouldn't change a thing. She's happy watching Friday night games from the bleachers, silently crushing on best friend Cas, and blissfully ignoring the future after high school. But the universe has other plans. It delivers Devon's cousin Foster, an unrepentant social outlier with a surprising talent for football, and the obnoxiously superior and maddeningly attractive star running back, Ezra, right where she doesn't want them: first into her P.E. class and then into every other aspect of her life.

Pride and Prejudice meets Friday Night Lights in this contemporary novel about falling in love with the unexpected boy, with a new brother, and with yourself.
Source: Public library
How I Found Out About It: Goodreads/Blogging
If you stay on top of my blog, then you may know that I dislike most books about sports. I am not such a huge fan of them in real life, nor am I in literature. When I first read the synopsis of First & Then, although I realized that it mentioned football, I thought that it would only be a minor element of the story. Well, I was wrong about that. Regardless, I still enjoyed most of it.
To add on, there were many elements about it that I really appreciated, as well as some that I disliked, and I'll go into them in full detail later. I definitely liked the characters and the plot, but I think the main thing that bored me a bit about this book was, again, the sports aspect.
For a synopsis of the story, First & Then follows main character Devon. Life as far as she knows it is pretty sweet, and she wouldn't change a thing. In spite of this, though, things still do change- when she decides to take a gym course in school, her cousin Foster and a foe named Ezra are placed into her class and prove their talent in playing football. Soon enough, Devon finds herself immersed in both football and into their personal lives.
I found Devon to be a little hard to love at first. She seemed pretty close-minded and she whined a lot, which I didn't like at all, but I feel as if she developed immensely and amazingly as a character as she learned to accept the two boys as they were and appreciate football more.
Now for the other characters! Foster was pretty much embedded into Devon's family, and the fact that he was included in so many of their doings was super sweet. I also thought that Ezra, despite his slightly stuck-up jock personality, had the potential to become a new book crush of mine. He honestly seemed gorgeous, but can I see myself swooning over him? Ehhh.
The plot had a bit of a slow build-up, but that's okay. That gave me more time to get to know the amazingly crafted characters, and I'm quite thankful for that. As I said before, there was A LOT of football talk, so be sure to prepare yourself for that if you ever decide to give this novel a read.
To sum everything up, First & Then stands as a 3.5 star read in my eyes. I'm not comfortable with rating it any higher because of all the unexpected football games and lingo that went over my head, but I didn't want to rate it any lower because the characters were fantastically real. So, are you a fan of sports? Do you want to read a story with characters that will find a place in your heart? If you answered yes to either question, then I would highly recommend this novel to you.