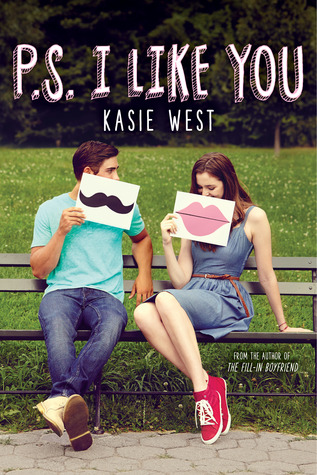 Title: P.S. I Like You
Author: Kasie West
Genre & Age Group: Contemporary, romance, young adult
Goodreads Synopsis:
Signed, sealed, delivered…

While spacing out in chemistry class, Lily scribbles some of her favorite song lyrics onto her desk. The next day, she finds that someone has continued the lyrics on the desk and added a message to her. Intrigue!

Soon, Lily and her anonymous pen pal are exchanging full-on letters—sharing secrets, recommending bands, and opening up to each other. Lily realizes she's kind of falling for this letter writer. Only, who is he? As Lily attempts to unravel the mystery and juggle school, friends, crushes, and her crazy family, she discovers that matters of the heart can't always be spelled out…
Source: Public library
How I Found Out About It: Goodreads/Blogging
It is no question to you that I have adored every single Kasie West book that I've read. I've said this so many times, but I'll say it again- I am a massive fan of hers. Her quirky and fun romances always leave me smiling from ear to ear, and I know that I can always rely on them to brighten my day.
For this reason, it wasn't at all surprising to me that I loved P.S. I Like You, as well. I had been dying to read it since before it hit shelves last summer, and I must honestly say that it was worth that wait. 
To briefly sum up the plot of this story, it revolves around a teen girl named Lily. She is a huge fan of indie music, so when bored in class one day, she writes some of those lyrics on her desk. The next day she finds out that someone who is a fan of the same music has written her back, so a conversation starts- and turns deep. Who is this mystery guy who Lily finds herself falling head over heels for?
I've got to say that Lily was basically your typical teenage protagonist. She was extroverted, hopelessly romantic, a music lover, and a despiser of school, and all of these traits had her blending into the crowd rather than standing out. That's okay, though- I still liked her and found her to be quite pleasant to read about.
The plot of P.S. I Like You is admittedly a tad predictable, but it was still fun to follow the foot tracks of how everything, including the mystery letter writer, was figured out. As many other reviewers have said, the person sending the notes was quite obvious from the beginning, but I still thought that the build-up was adorably fun!
To sum it all up, if you love light-hearted stories with music and romance combined, then this book will leave you with a huge smile on your face. The mystery aspect definitely isn't the most mind-blowing thing in the universe, but my main point is that this story is adorable and a quick, breezy read. (And if you didn't get the memo, then P.S. I liked it!)