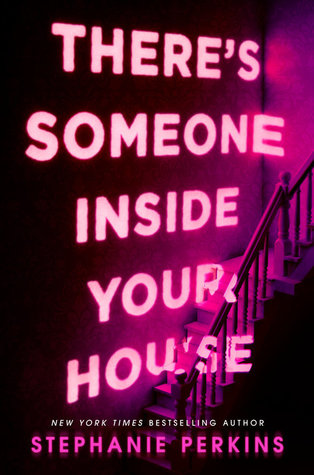 Title: There's Someone Inside Your House
Author: Stephanie Perkins
Genre & Age Group: Contemporary, horror, thriller, mystery, young adult
Goodreads Synopsis:
Scream meets YA in this hotly-anticipated new novel from the bestselling author of Anna and the French Kiss.

One-by-one, the students of Osborne High are dying in a series of gruesome murders, each with increasing and grotesque flair. As the terror grows closer and the hunt intensifies for the killer, the dark secrets among them must finally be confronted.

International bestselling author Stephanie Perkins returns with a fresh take on the classic teen slasher story that's fun, quick-witted, and completely impossible to put down.
Source: Thanks so much to Indigo Books & Music Inc. for providing me with a physical ARC of this book!
How I Found Out About It: Blogging
If Stephanie Perkins wasn't the author of this book, then I doubt I would have even considered picking it up in the first place- I am usually not such a huge fan of dark horror novels like this. Because I adored her Anna and the French Kiss trilogy, I knew I could trust her writing to get me to try out a whole new genre.
I was right! There's Someone Inside Your House was quite the awesome, fun read. I honestly had a spectacular time with it and now since having enjoyed this book, I can see myself eager to pick up more books of this type in the future.
For a brief plot summary, this novel focuses on a teenage protagonist named Makani. During the course of the story, Makani observes students from her high school being killed by a mysterious murderer. Soon enough, Makani will be involved, and this will cause her to have to uncover some of her deepest secrets, as well.
To be completely honest, I thought that the characters were the weakest point of this book. Makani was a bit bland, as were all of her counterparts including Ollie. Since this is technically a mystery book, it's not surprising to me that the plot moves things along more than the characters do- in fact, it is kind of expected that it focuses less on the characters and more on the pace.
Continuing on with my last statement, the plot of this story had me completely reeled in! I found it very hard to set this book down as I was so immersed into everything. This book was very fast-paced and intriguing, and things took unexpected turns every couple chapters or so. In spite of all this, though, I was pretty indifferent about the ending, but that's just my opinion. I didn't love the turnout, but I didn't despise it, either.
All in all, There's Someone Inside Your House was the gripping book I needed to read in between all of the fluffy contemporaries that I'd been devouring. Although the characters weren't as strongly developed as they could have been, the story as a whole was an incredibly fun ride. If you are new to the genre of YA horror or mystery, then this novel would be the perfect starting point for you. It incorporates all the fun of a contemporary book complete with a trusted author's writing, but it also includes several new elements for you to explore.
*I received an advanced reader copy of this book from Indigo Books & Music Inc. in exchange for an honest review.*