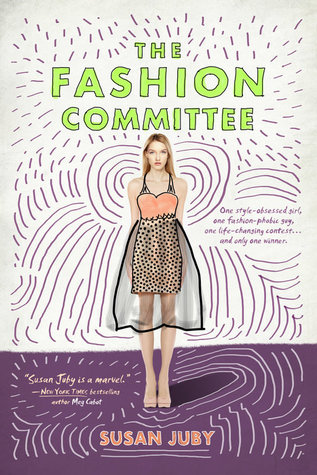 Title: The Fashion Committee
Author: Susan Juby
Genre & Age Group: Contemporary, young adult
Goodreads Synopsis:
What if one contest could change the course of your entire life?

Charlie Dean is a style-obsessed girl who eats, sleeps, and breathes fashion.

John Thomas-Smith is a boy who forges metal sculptures in his garage and couldn't care less about clothes.

Both are gunning for a scholarship to the private art high school that could make all their dreams come true. And whoever wins the fashion competition will win the scholarship.
Source: Public library
How I Found Out About It: Blogging
Upon hearing that the awesome Susan Juby was about to release a new book, I was all in. About a year and a half ago, I devoured one of her other books, The Truth Commission, praising it for its unique writing style and premise. Remembering the fun ride I had with that book, I was ecstatic to get around to this one.
Did I enjoy this one? Yes, for sure! But was it as spectacular as The Truth Commission was? Not in the least. I had quite high expectations for The Fashion Committee and I think it's safe to say that I felt a bit let down.
To briefly sum up the plot, it basically follows the perspectives of two teens named Charlie and John. For different reasons, both are vying for a scholarship at a special arts school. In order to achieve this scholarship, applicants must win a fashion contest. For Charlie, this is a dream come true as she loves fashion, but John doesn't know a thing about it. Who is going to end up taking home the scholarship and thus pursuing their artistic dreams?
First, let's focus on the characters. Some of them were really interesting to read about, but others were simply bland and unmemorable. Starting with Charlie, although her story was captivating and I loved her fashionable flair and our common love for all things français, I don't see myself remembering her in, say, two months time.
The same thing goes with John- he was a good protagonist to explore in the moment, but as soon as I closed the book for the last time, my memories of him vanished. I also must say that the changing fonts weren't enough to distinguish the two POVs as I still got confused at times. May I suggest a really quirky font for Charlie and a really plain one for John?
The plot of this novel started off very strong and eventful and I sensed that this book would be a winner in my eyes, but as it continued, it just went downhill. I would have preferred it if this book started off slow and ended off on a high, but that's just me. And speaking of endings, I did not expect The Fashion Committee to end the way it did. I was genuinely shocked!
Overall, The Fashion Committee was a fun, funky, and fresh read that is marvellous for pleasant summer reading. Its characters are mostly interesting, the premise is captivating, and the writing style is engaging and unique. This book may not become an absolute favourite of yours, but if you enjoy fashion and art themed stories, then you will dig this one!