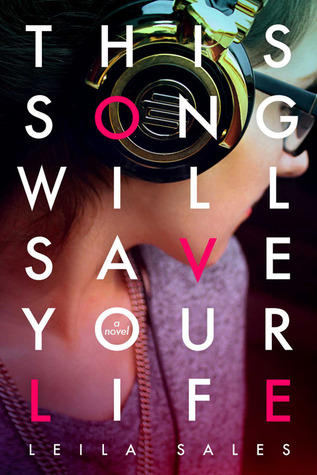 Title: This Song Will Save Your Life
Author: Leila Sales
Genre & Age Group: Contemporary, romance, young adult
Goodreads Synopsis:
Making friends has never been Elise Dembowski's strong suit. All throughout her life, she's been the butt of every joke and the outsider in every conversation. When a final attempt at popularity fails, Elise nearly gives up. Then she stumbles upon a warehouse party where she meets Vicky, a girl in a band who accepts her; Char, a cute, yet mysterious disc jockey; Pippa, a carefree spirit from England; and most importantly, a love for DJing.

Told in a refreshingly genuine and laugh-out-loud funny voice, This Song Will Save Your Life is an exuberant novel about identity, friendship, and the power of music to bring people together.
Source: Public library
How I Found Out About It: Blogging
I just realized that I have been reading so many books centring around music lately. I guess that something about the two of them meshed together perks me up, because each one I read is one that I thoroughly enjoy. 
This Song Will Save Your Life was absolutely no exception to this. I really, really enjoyed reading it! I loved the protagonist and the morals that this book displays, and I can totally see myself recommending this novel to others in the future.
For a brief plot summary, this story follows a teen girl named Elise. All her life, she has been a social misfit and arguably the most 'unpopular' student in her school. When she decides to attend a warehouse party one day, she discovers a whole new side of her that allows her to relate to the people there due to a similar interest in music- as well as a new love for being a DJ.
Elise was definitely a character whom I could easily see myself in. Much like me, she was a pure introvert and had some insecurities about fitting in with the crowd and being liked, but I love how she learns that it's 100% okay to stand out, as well. Her growth by the story's end is amazing to watch as she finally becomes able to find the people she can call her best friends!
There was one significant flaw in this book that I can't help but point out, though, and that is the plot. It's okay to disagree with me, but I felt like it turned in unrealistic directions sometimes, leaving me a tad confused. Although it bothered me a bit, it definitely wasn't a big deal- the characters and morals made up for it.
To conclude, I really cherished my time reading This Song Will Save Your Life. The morals all about finding yourself and who you really are as well as finding true friends were spectacular, and I believe that many introverted readers would find solace in protagonist Elise. If you're a hardcore music fan who also adores novels about blossoming friendships, this song book will save your life!