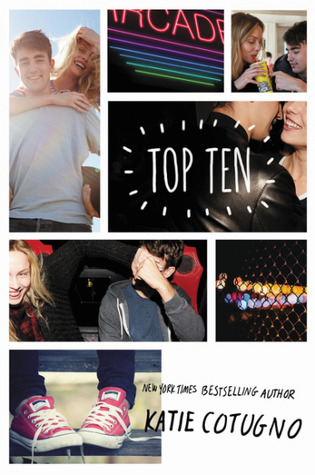 Title: Top Ten
Author: Katie Cotugno
Genre & Age Group: Contemporary, young adult
Goodreads Synopsis:
Ryan McCullough and Gabby Hart are the unlikeliest of friends. Introverted, anxious Gabby would rather do literally anything than go to a party. Ryan is a star hockey player who can get any girl he wants—and does, frequently. But against all odds, they became not only friends, but each other's favorite person. Now, as they face high school graduation, they can't help but take a moment to reminisce and, in their signature tradition, make a top ten list—counting down the top ten moments of their friendship:

10. Where to begin? Maybe the night we met.
9. Then there was our awkward phase.
8. When you were in love with me but never told me…
7. Those five months we stopped talking were the hardest of my life.
6. Through terrible fights…
5. And emotional makeups.
4. You were there for me when I got my heart broken.
3. …but at times, you were also the one breaking it.
2. Above all, you helped me make sense of the world.
1. Now, as we head off to college—how am I possibly going to live without you?
Source: Thanks so much to Indigo Books & Music Inc. for providing me with a physical ARC of this book!
How I Found Out About It: Indigo newsletter
Prior to sinking into this book, I had heard a lot about Katie Cotugno and her light, fun books. Eager to find out what makes everyone rave about her stories, I requested Top Ten right away when I saw it on Indigo's ARC newsletter.
After having read this, I can totally see why people love her writing so much. I adored this book! Although it may not have been the most original of story topics, the two protagonists were fantastically written and the plot sailed very smoothly.
To summarize the plot of this story, Top Ten follows the perspectives of two very different teens named Gabby and Ryan. Despite how different they are from each other, they still found each other and became best friends- going no further than that. Since they are about to graduate and their time together is running out, the two decide to look back on their friendship using a list of the top ten things that represent it.
I can finally say that there was a multi-POV book that I truly enjoyed! Though the POVs were represented in third-person, they were definitely omniscient and full of depth.
I found myself easily able to see myself in Gabby– like me, she was introverted, intuitive, and shy. She suffered from a bit of social anxiety, but as I am not a doctor, I can't say much about the way it was represented. The story does come from an author who suffers from it herself, though, so that is a good thing. Oh- and did I mention the fact that she was also bisexual? Two points for diversity!
I absolutely adored Ryan as well! I loved how he stayed positive, triumphant, and eager to always have a good time. He never wanted to stop playing hockey despite all of his concussions, and this makes him a great role model!
I loved the premise of this story as well, even in spite of it not being the most unique. There was almost NO romance between Gabby and Ryan- they stayed as friends and friends only. I am so thankful to have finally read a book with a boy and a girl just remaining friendly without a romantic relationship blooming between them. We really don't see those enough in the YA genre. I also adored the top ten list format of this book– I myself love writing lists of all kinds of stuff. It was a win-win!
To sum it all up, Top Ten belongs within the top ten books on your TBRs. It was phenomenally written, and the characters and the plot were excellently created as well. The one thing that draws it back from getting 5 stars, though, is the fact that the morals were not very profound, but with that aside, I'd absolutely, 100% recommend this book to readers looking for a refreshing contemporary featuring a boy and a girl as friends– and nothing more than that.
*4.25 Stars*
*I received an advanced reader copy of this book via Indigo Books & Music Inc. in exchange for an honest review.*