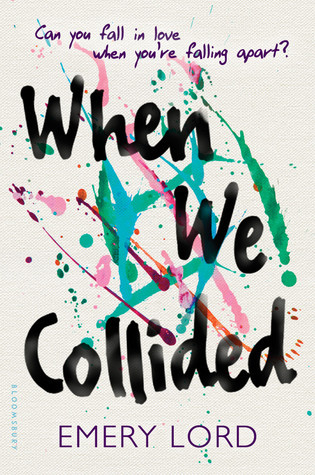 Title: When We Collided
Author: Emery Lord
Genre & Age Group: Contemporary, romance, young adult
Goodreads Synopsis:
We are seventeen and shattered and still dancing. We have messy, throbbing hearts, and we are stronger than anyone could ever know…

Jonah never thought a girl like Vivi would come along.

Vivi didn't know Jonah would light up her world.

Neither of them expected a summer like this…a summer that would rewrite their futures.

In an unflinching story about new love, old wounds, and forces beyond our control, two teens find that when you collide with the right person at just the right time, it will change you forever.
Source: Public library
How I Found Out About It: Goodreads
I can always trust Emery Lord to write books that are fun and fluffy, leaving me in such an awesome mood after I finish the last page. I really enjoyed Open Road Summer and The Start of Me and You, so I obviously had the highest hopes for When We Collided.
If someone asked me to describe this book using one word, then that one word I'd choose would probably be "cute." Everything about this story was honestly adorable, from its characters to its upbeat writing style.
As it is the expected predictable summer fling contemporary, this story definitely blends into the crowd, but to sum it up, it follows the perspectives of teens Vivi and Jonah. Jonah has lived in his intimate town for his whole life, but Vivi is an outsider who comes to visit one summer, and the two form a remarkable, but unexpected bond. Can the summer fling last?
I loved both Jonah and the humongous family he lived with- he was somewhere in the middle of 6 siblings, including himself! Even though his family did follow the trope of a missing parent (his dad had passed away), I really loved how all of the siblings were different, yet alike at the same time, if you get what I'm saying. Jonah himself was a sweetie pie as well! I am totally a sucker for characters and people who love their family- it definitely shows that they have big hearts. Also, I just loved adorable little Leah; she made the book 10 times better!
Viv was definitely a unique, eccentric character. I've never read about anyone like her. She did have bipolar disorder and I can't tell you too much about the way it was represented, but I appreciated her quirkiness and loyalty to Jonah throughout the story.
In spite of the romance being a tiny bit rushed, I did think that this book had a strong plot. It followed the basic storyline of "girl visits boy's hometown, then meets and falls in love with said boy," but there was a lot of unique flair added to it such as appearances made by Jonah's large family and amazing character development. I loved it!
I said it once, but I'll say it again- When We Collided is super cute. It is the perfect light romance to read during the summertime, and even though this book is part of quite a few tropes, you'll for sure find yourself smiling about it afterwards.