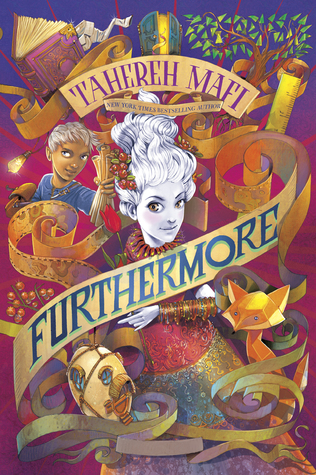 Title: Furthermore
Author: Tahereh Mafi
Genre & Age Group: Fantasy, middle grade
Goodreads Synopsis:
Alice Alexis Queensmeadow 12 rates three things most important: Mother, who wouldn't miss her; magic and color, which seem to elude her; and Father, who always loved her. Father disappeared from Ferenwood with only a ruler, almost three years ago. But she will have to travel through the mythical, dangerous land of Furthermore, where down can be up, paper is alive, and left can be both right and very, very wrong. Her only companion is Oliver whose own magic is based in lies and deceit. Alice must first find herself—and hold fast to the magic of love in the face of loss.
Source: Public library
How I Found Out About It: Blogging/Goodreads
Because I was so impressed by her Shatter Me series, Tahereh Mafi is one of my favourite authors. She has a vibrant, lyrical writing style that always wows me! Thus, when I heard that she was releasing Furthermore, I was exuberant to read it, and I was even more excited when I was FINALLY able to get my hands onto it!
Though I often am not a huge fan of middle grade fantasy, or fantasy in general, Furthermore opened many new doors for me to try more books of this type. As I expected, I really enjoyed reading this one- its writing, characters, and plot were all top notch!
Basically, this novel follows the perspective of a young girl named Alice who lives in a land called Ferenwood. She was born without colour and magic in her, which makes her a little bit different from others. Upon the escape of her father from her homeland, Alice is forced to take a journey through the mysterious land of Furthermore alongside a boy named Oliver whom she is not particularly fond of. Will she get her colour and magic and find her father? And will she learn to get along with Oliver?
I liked both of the characters in this story for sure. Personally, I preferred Alice over Oliver because of her bravery, perseverance, ability to be a role model, and wisdom, but Oliver comes as a close second because of his immense character development throughout the book. They were both adorably innocent at times, and I loved that for a change. Plus, I loved how their relationship grew for the better as the story progressed!
I thought that this book had quite the unique flair to it, but I honestly can't say much because I don't read a lot of fantasy. However, I absolutely did find myself amused and captivated by all of this story's happenings and I just want to read more from the land of Furthermore!
Overall, I had a splendid time cuddled up with this book. I really appreciated this novel's main characters, storyline, as well as Mafi's awesome writing style that was the delicious cherry on top of it all! I would recommend Furthermore to readers who enjoy fairy tales, magic, and simply anything to do with light, happy fantasy books. Tahereh Mafi never disappoints!