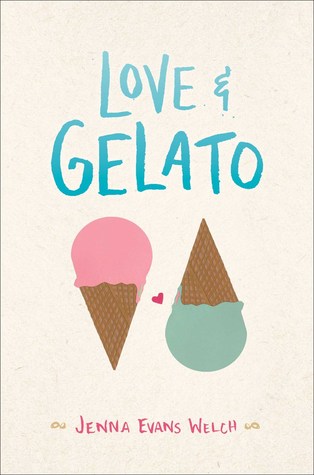 Title: Love & Gelato
Author: Jenna Evans Welch
Genre & Age Group: Contemporary, romance, young adult
Goodreads Synopsis:
"I made the wrong choice."

Lina is spending the summer in Tuscany, but she isn't in the mood for Italy's famous sunshine and fairy-tale landscape. She's only there because it was her mother's dying wish that she get to know her father. But what kind of father isn't around for sixteen years? All Lina wants to do is get back home.

But then she is given a journal that her mom had kept when she lived in Italy. Suddenly Lina's uncovering a magical world of secret romances, art, and hidden bakeries. A world that inspires Lina, along with the ever-so-charming Ren, to follow in her mother's footsteps and unearth a secret that has been kept for far too long. It's a secret that will change everything she knew about her mother, her father—and even herself.

People come to Italy for love and gelato, someone tells her, but sometimes they discover much more.
Source: Bought at Indigo
How I Found Out About It: Goodreads/Blogging
After I finished my exams, Love & Gelato was the first book I turned to to get myself into the summer mood. I had been hearing so many awesome comments about it that I knew I had to go out, buy it, and devour it.
Well, devour it I did, but it was surprisingly not as fluffy as I was expecting it to be. Of course, some parts were definitely lighthearted, but there was a lot of character growth and depth that made the read a tad more on the serious side. 
To give a summary, this story follows a teenage girl named Lina. After her mom passes away, she is sent to live in Italy for the summer to get to know her father. When she gets her hands on her mom's old journal that she kept while going to school there, she learns that things are not all as seemed.
I have to say that Lina was truthfully an extraordinary character. Her instincts were great and she could always figure out in a jiffy if something seemed fishy, which was definitely evident when reading and examining her mom's journal. Lina trusted her gut feeling, and in turn, this made her a reliable character.
The love interest, Ren, was very helpful to Lina during a time of sorrow and adjustment, and as well, he was, ahem, swoon-worthy! Haha, he was gorgeous. New book crush, anyone? 😉
The plot ran well and I was never confused or bored while reading the novel. The events linked together with a strong connection, and I was always kept just wanting to turn more and more of the pages! To add on, I really loved being able to explore the city of Florence through the characters' eyes and learn all about Lina's family history through her mother's journal.
All in all, Love & Gelato was a fantastic story of love, loss, friendship, family, and teamwork. Its characters, storyline, and morals were great, and I couldn't recommend this book enough- specifically to those readers who are fans of travel, family ties, and of course, GELATO! Devour this read like you would gelato, people!❤️
*4.25 Stars*