Hi everyone!😃
I could not think of a topic for this week's Top Ten Thursday, so instead of doing that today, I have decided to post a (long overdue) review instead. I can 99% guarantee that I will get a Top Ten Thursday post up next week, though! Anyway, let's get cracking!
---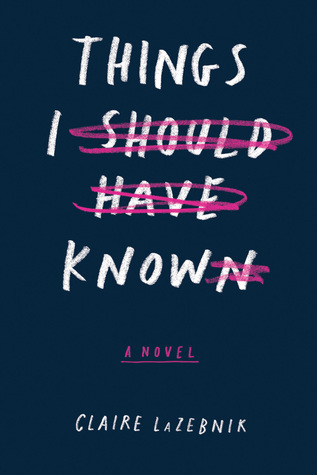 Title: Things I Should Have Known
Author: Claire LaZebnik
Genre & Age Group: Contemporary, young adult
Goodreads Synopsis:
Things Chloe knew: Her sister, Ivy, was lonely. Ethan was a perfect match. Ethan's brother, David, was an arrogant jerk.

Things Chloe should have known: Setups are complicated. Ivy can make her own decisions. David may be the only person who really gets Chloe.

Meet Chloe Mitchell, a popular Los Angeles girl who's decided that her older sister, Ivy, who's on the autism spectrum, could use a boyfriend. Chloe already has someone in mind: Ethan Fields, a sweet, movie-obsessed boy from Ivy's special needs class.

Chloe would like to ignore Ethan's brother, David, but she can't—Ivy and Ethan aren't comfortable going out on their own, so Chloe and David have to tag along. Soon Chloe, Ivy, David, and Ethan form a quirky and wholly lovable circle. And as the group bonds over frozen-yogurt dates and movie nights, Chloe is forced to confront her own romantic choices—and the realization that it's okay to be a different kind of normal.
Source: Public library
How I Found Out About It: Blogging
I love reading diverse books like this one. I have loved ones on the autism spectrum, so I was excited (and yes, at the same time scared as well) about how this book would portray it. Pushing that aside, the whole concept intrigued me, so I decided to check out Things I Should Have Known.
Like most books I read, this one definitely had some, but very few minor flaws- that's almost a given. Overall, though, I found it to be a very fun, light and resourceful read.
For a summary of the plot, Things I Should Have Known revolves around a teenage girl named Chloe and her older sister, Ivy, who is on the autism spectrum. Chloe decides that Ivy deserves a boyfriend, so she gets her together with a boy named Ethan from her class. The thing is, though, that Ivy and Ethan are reluctant to be alone, and so Chloe must go out with Ethan's brother David as well, whom she is not particularly fond of. Will they make it work?
Chloe was such a sweetie! She was very understanding and protective of her sister because of and despite her condition, and honestly, I adored that she cared so much. Her and Ivy were legitimately sister goals, holding an unbreakable bond that not all siblings are fortunate enough to experience. Ivy's character was also super loveable and I absolutely adored her to bits!❤️
For the most part, the events in this book were quite realistic, apart from the unexpected turn of events that occurred at around two-thirds of the way through. Since I completed this book a month ago, I can no longer remember what exactly it was, but I do remember it being shocking and not the most realistic thing that I would have expected to happen.
All in all, Things I Should Have Known was a very enjoyable read. I loved the protagonist, the family ties, the realness, and the diversity, but the male characters were slightly dull and I can't say too much about the representation of ASD. Anyway, for those readers wanting to check out a good book with a character on the autism spectrum, I would for sure recommend this one.