Hi everyone!😃
Happy (belated) Canada Day! This one was especially special because it was Canada's 150th birthday! For those of you who are Canadian, I hope you all had a great day and did something super fun with your friends and families to celebrate the occasion.🎊
Anyway, in honour of Canada's 150th birthday, I wanted to list some great YA books written by Canadian authors for you to check out. These books are often overlooked, but they are all truly amazing in their own ways and should definitely be read by many more people.
So let's get on with it, eh?😉
---
1. Cracked up to Be by Courtney Summers
When "Perfect" Parker Fadley starts drinking at school and failing her classes, all of St. Peter's High goes on alert. How has the cheerleading captain, girlfriend of the most popular guy in school, consummate teacher's pet, and future valedictorian fallen so far from grace?

Parker doesn't want to talk about it. She'd just like to be left alone, to disappear, to be ignored. But her parents have placed her on suicide watch and her conselors are demanding the truth. Worse, there's a nice guy falling in love with her and he's making her feel things again when she'd really rather not be feeling anything at all.

Nobody would have guessed she'd turn out like this. But nobody knows the truth.

Something horrible has happened, and it just might be her fault.
Though not the most perfect story, Courtney Summers is still a fabulous author who touches on quite serious topics with the hearts of teens in mind. Cracked up to Be is absolutely worth a read!
---
2. The Agony of Bun O'Keefe by Heather Smith
Set in 1980s Newfoundland, The Agony of Bun O'Keefe is the story of a 14-year-old girl who runs away to the city and is taken in by a street musician who lives with an eclectic cast of characters: a pot smoking dishwasher with culinary dreams; a drag queen with a tragic past; a Catholic school girl desperately trying to reinvent herself; and a man who Bun is told to avoid at all cost.
This book isn't out until September, but it was too good not to include in this list. I loved the quirky, relatable character of Bun and her story!
---
3. 10 Things I Can See from Here by Carrie Mac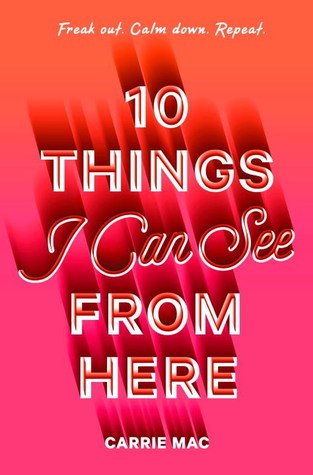 Perfect for fans of Finding Audrey and Everything, Everything, this is the poignant and uplifting story of Maeve, who is dealing with anxiety while falling in love with a girl who is not afraid of anything.

Think positive.
Don't worry; be happy.
Keep calm and carry on.

Maeve has heard it all before. She's been struggling with severe anxiety for a long time, and as much as she wishes it was something she could just talk herself out of, it's not. She constantly imagines the worst, composes obituaries in her head, and is always ready for things to fall apart. To add to her troubles, her mom—the only one who really gets what Maeve goes through—is leaving for six months, so Maeve will be sent to live with her dad in Vancouver.

Vancouver brings a slew of new worries, but Maeve finds brief moments of calm (as well as even more worries) with Salix, a local girl who doesn't seem to worry about anything. Between her dad's wavering sobriety, her very pregnant stepmom insisting on a home birth, and her bumbling courtship with Salix, this summer brings more catastrophes than even Maeve could have foreseen. Will she be able to navigate through all the chaos to be there for the people she loves?
A wonderful novel about diversity and family ties, 10 Things I Can See from Here is written by an author who is from the heart of Vancouver. Isn't that awesome?
---
4. 5 to 1 by Holly Bodger
In the year 2054, after decades of gender selection, India now has a ratio of five boys for every girl, making women an incredibly valuable commodity. Tired of marrying off their daughters to the highest bidder and determined to finally make marriage fair, the women who form the country of Koyanagar have instituted a series of tests so that every boy has the chance to win a wife.

Sudasa doesn't want to be a wife, and Contestant Five, a boy forced to compete in the test to become her husband, has other plans as well. Sudasa's family wants nothing more than for their daughter to do the right thing and pick a husband who will keep her comfortable—and caged. Five's family wants him to escape by failing the tests. As the tests advance, Sudasa and Five thwart each other at every turn until they slowly realize that they just might want the same thing.

Told from alternating points of view—Sudasa's in verse and Contestant Five's in prose—allowing readers to experience both characters' pain and their brave struggle for hope.
There are honestly so many great things about this book, but I still saw some flaws in it. Anyway, focusing on the positives, 5 to 1 was very diverse and unique with some unforgettable characters. Plus, it takes place in the future, which was super cool!💜
---
5. Ink by Amanda Sun
On the heels of a family tragedy, the last thing Katie Greene wants to do is move halfway across the world. Stuck with her aunt in Shizuoka, Japan, Katie feels lost. Alone. She doesn't know the language, she can barely hold a pair of chopsticks, and she can't seem to get the hang of taking her shoes off whenever she enters a building.

Then there's gorgeous but aloof Tomohiro, star of the school's kendo team. How did he really get the scar on his arm? Katie isn't prepared for the answer. But when she sees the things he draws start moving, there's no denying the truth: Tomo has a connection to the ancient gods of Japan, and being near Katie is causing his abilities to spiral out of control. If the wrong people notice, they'll both be targets.

Katie never wanted to move to Japan—now she may not make it out of the country alive.
This book only deserved three stars from me, but there are so many fabulous elements to it that will appeal to those who prefer paranormal contemporaries. Still, can't overlook a Canadian author!😃
---
6. Optimists Die First by Susin Nielsen
Life ahead: Proceed with caution.

Sixteen-year-old Petula De Wilde is anything but wild. A family tragedy has made her shut herself off from the world. Once a crafting fiend with a happy life, Petula now sees danger in everything, from airplanes to ground beef.

The worst part of her week is her comically lame mandatory art therapy class. She has nothing in common with this small band of teenage misfits, except that they all carry their own burden of guilt.

When Jacob joins their ranks, he seems so normal and confident. Petula wants nothing to do with him, or his prosthetic arm. But when they're forced to collaborate on a unique school project, she slowly opens up, and he inspires her to face her fears.

Until a hidden truth threatens to derail everything.
I LOVED THIS BOOK! It was so awesome and it has to be discovered by a ton more readers!!💞
---
7. All the Feels by Danika Stone
College freshman Liv is more than just a fangirl: The Starveil movies are her life… So, when her favorite character, Captain Matt Spartan, is killed off at the end of the last movie, Liv Just. Can't. Deal.

Tired of sitting in her room sobbing, Liv decides to launch an online campaign to bring her beloved hero back to life. With the help of her best friend, Xander, actor and steampunk cosplayer extraordinaire, she creates #SpartanSurvived, a campaign to ignite the fandom. But as her online life succeeds beyond her wildest dreams, Liv is forced to balance that with the pressures of school, her mother's disapproval, and her (mostly nonexistent and entirely traumatic) romantic life. A trip to DragonCon with Xander might be exactly what she needs to figure out what she really wants.
This little piece of fluff will satisfy fangirls from all over the world- and plus, Danika Stone is from Alberta!
---
8. Everything Beautiful is Not Ruined by Danielle Younge-Ullman
Wild meets The Breakfast Club in this story of a girl who must survive an extreme wilderness experience to prove to her mother that she has the strength to pursue her dreams.

Then
Ingrid traveled all over Europe with her opera star mother, Margot-Sophia. Life was beautiful and bright, and every day soared with music.

Now
Ingrid is on a summertime wilderness survival trek for at-risk teens: addicts, runaways, and her. She's fighting to survive crushing humiliations, physical challenges that push her to her limits, and mind games that threaten to break her.

Then
When the curtain fell on Margot-Sophia's singing career, they buried the past and settled into a small, painfully normal life. But Ingrid longed to let the music soar again. She wanted it so much that, for a while, nothing else mattered.

Now
Ingrid is never going to make it through this summer if she can't figure out why she's here . . . and why the music really stopped.
This novel was very unique and it felt REAL. The main character, Ingrid, was wonderful to read about, and so was her journey.💫
---
9. The Best Mistake Mystery by Sylvia McNicoll
Some people count their blessings, but dogwalker Stephen Nobel counts mistakes.

Dogwalker extraordinaire Stephen Nobel can get a little anxious, but his habit of counting the mistakes he and everyone else makes calms him. His need to analyze gets kicked into hyperdrive after two crazy events happen in one day at school: the bomb squad blows up a backpack and someone smashes a car into the building.

To make things worse, that someone thinks Stephen can identify them. Stephen receives a threatening text. If he goes to the police, his favourite dogs, Ping and Pong, will get hurt. The pressure mounts when his new best friend, Renée, begs for Stephen's help. Her brother has been charged with the crimes and she wants to clear his name.

Is it a mistake to give in to dognappers? How can he possibly save everybody? To find out, Stephen will have to count on all of his new friends.
I was given the opportunity to read and review both this book and its sequel, The Artsy Mistake Mystery, through Netgalley. Despite them being middle grade novels, they are simply awesome and deserve lots more attention!
---
10. Safe as Houses by Eric Walters
The date is October 15, 1954. Thirteen-year-old Elizabeth, who lives in the Toronto suburb of Weston, is a typical grade 8 girl. She has a secret crush on a boy in her class and she thinks Elvis Presley is "dreamy." Elizabeth also has a part-time job babysitting an adorable little grade 2 girl named Suzie, and Suzie's not-so-adorable grade 6 brother, David. Elizabeth's job is to walk Suzie and David home after school and then stay at their house with them until their mother gets home from work. David resents Elizabeth because he thinks he is too old for a babysitter, and he goes out of his way to make life miserable for her.

On this particular evening, however, Elizabeth has more than a badly behaved boy to contend with. It is on this October night that Hurricane Hazel roars down on Toronto, bringing torrential rains that cause extensive flooding. David and Suzie's house is on Raymore Drive, a street that will be practically wiped out by the floodwaters.

David and Suzie's parents are unable to reach the house, which means the children's safety on this most deadly of nights is Elizabeth's responsibility. She finds herself increasingly isolated. They are surrounded by rising water. The electricity goes out. The phone goes dead. Still, Elizabeth is sure they will be safe as long as they remain in the house.

But are Elizabeth and the children really as "safe as houses"? Before this terrifying night is over, Elizabeth and David will have to learn to communicate and cooperate if they are to save their own lives and Suzie's. Their survival in the midst of one of Canada's worst disasters will depend upon their resourcefulness, maturity and courage.
I read this for school about a year and a half ago, and it was a great piece of historical fiction that I would for sure recommend.☺️
---
So tell me, have you read any of these books? Opinions? What are some of your favourite books by Canadian authors? Any you'd recommend? If you're Canadian, how was your Canada Day and what did you do? Let me know in the comments below.
Au revoir!💜