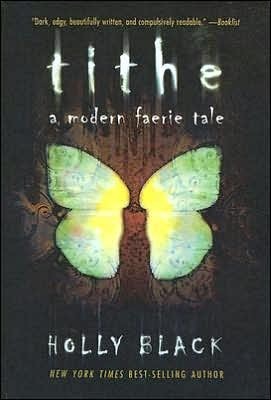 Title: Tithe
Author: Holly Black
Genre & Age Group: Fantasy, paranormal, young adult
Goodreads Synopsis:
Welcome to the realm of very scary faeries!

Sixteen-year-old Kaye is a modern nomad. Fierce and independent, she travels from city to city with her mother's rock band until an ominous attack forces Kaye back to her childhood home. There, amid the industrial, blue-collar New Jersey backdrop, Kaye soon finds herself an unwilling pawn in an ancient power struggle between two rival faerie kingdoms – a struggle that could very well mean her death.
Source: School library
How I Found Out About It: Goodreads
Honestly, I think I should give up with reading fantasy books. I've tried so many times already, but I am always left feeling so disappointed.
Since I am *somewhat* interested in fairies, I thought this book would be a win for me. I hadn't given many novels about fairies a try, so in reading this book, I was hoping to gain more of an appreciation for the paranormal genre. Well, that almost failed.
Tithe is basically about a girl named Kaye who often travels with her mom and her rock band, but now under unforeseen circumstances, she is forced to live in her New Jersey hometown again, where there are many intimidating fairies. Kaye finds herself tangled up between two teams of fairies… which one will she choose?
I don't have much to say about the characters other than the fact that they were bland. Kaye had next to no personality and she was super forgettable, and since I finished this book almost two weeks ago, the only other character that I can remember is the one I mentioned in my Goodreads mini-review; one of the leading fairies named Roiben. He was unmemorable as well, truthfully, but while reading I really liked his character. I guess not quite enough to contain him inside my brain, though…
Story-wise, I appreciated the interesting premise of this novel, but I didn't feel wowed or gripped. I enjoyed reading this book at first as I got to learn all about the city and how full of fairies it was, but as the action increased, I turned out to dislike it quite a bit. If you read my reviews regularly, then you know that I am not particularly an action fan. Go figure with this book.
Overall, although I liked the writing style of this book and still feel compelled to continue on with the series (eventually), Tithe ultimately just lacked so much for me. The characters were as dull as the dullest shade of grey, the storyline turned out to be boring, and the ending was so weird. If you know that you can trust paranormal novels to give you a good time, then by all means, try this one out, and I'm sure you'll love it to pieces! But contemporary lovers, maybe take a pass.