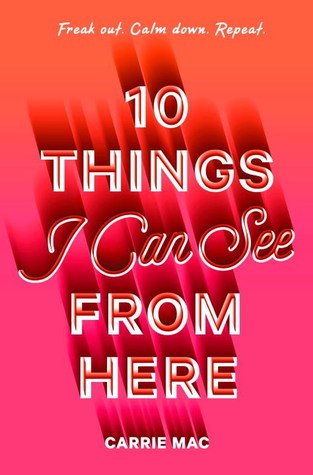 Title: 10 Things I Can See from Here
Author: Carrie Mac
Genre & Age Group: Contemporary, LGBTQ+, young adult
Goodreads Synopsis:
Perfect for fans of Finding Audrey and Everything, Everything, this is the poignant and uplifting story of Maeve, who is dealing with anxiety while falling in love with a girl who is not afraid of anything.

Think positive.
Don't worry; be happy.
Keep calm and carry on.

Maeve has heard it all before. She's been struggling with severe anxiety for a long time, and as much as she wishes it was something she could just talk herself out of, it's not. She constantly imagines the worst, composes obituaries in her head, and is always ready for things to fall apart. To add to her troubles, her mom—the only one who really gets what Maeve goes through—is leaving for six months, so Maeve will be sent to live with her dad in Vancouver.

Vancouver brings a slew of new worries, but Maeve finds brief moments of calm (as well as even more worries) with Salix, a local girl who doesn't seem to worry about anything. Between her dad's wavering sobriety, her very pregnant stepmom insisting on a home birth, and her bumbling courtship with Salix, this summer brings more catastrophes than even Maeve could have foreseen. Will she be able to navigate through all the chaos to be there for the people she loves?
Source: Public library
How I Found Out About It: Blogging/Goodreads
Since I have been wanting to read many more diverse books lately, 10 Things I Can See from Here completely fit the bill for what I was looking for. I'm not quite sure if its culture portrayals are diverse, but the main character is lesbian and suffers from a severe anxiety disorder. As I love to get different viewpoints of life while reading books, I got very excited when I found this on a shelf at my local library.
This story turned out to be everything I was expecting it to be, but I wouldn't say that it knocked my socks off. I loved the relatable protagonist, the writing style, and the storyline!
Basically, 10 Things I Can See from Here is about a girl named Maeve. She suffers from an anxiety disorder, and even though she is often told to think positively, it is very hard for her to do. Since her mom is going to Haiti for a few months, Maeve is sent to her dad in Vancouver to start a whole new life. As you would expect, this gives her a lot of anxiety, but as she meets many new people including a girl named Salix whom she develops feelings for, is Vancouver really so bad after all?
I must say that I really enjoyed exploring the character of Maeve and her world. I found that I could relate to her at times in her thoughts- I too sometimes get really anxious and riled up about things. I often want everything to be in place and all events confirmed, and I was glad to see that another book character felt the same way. As I said before, she was really anxiety-ridden, but I don't know enough about anxiety disorders in order to be able to tell you if the representation was accurate. For the most part, it seemed pretty realistic to me- but ultimately, I'm no doctor.
As for the plot, it did have its ups and downs. The story started off being a bit slow, but as it picked up by about the halfway point of the book, I found myself appreciating and enjoying it so much more. Even when the plot was at its climax, I still sometimes found myself just staring at the page out of boredom, but this was a very rare happening. The events were still rather interesting and gripping!
Overall, 10 Things I Can See from Here definitely left me in need of more. Would I like more of Maeve? YES! Would I like to read more from Carrie Mac? DOUBLE YES! This story is a great one to read if you are in search of diversity, family ties, and a good F&F romance that we don't see nearly enough of. I'm sure you'll devour this novel!