*

TRIGGER WARNING: RAPE

– if that is a subject that discomforts you, then I would not recommend reading this book.*
---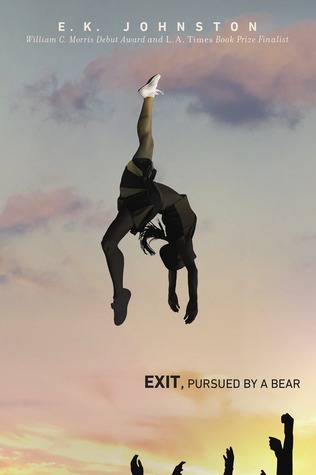 Title: Exit, Pursued by a Bear
Author: E.K. Johnston
Genre & Age Group: Contemporary, young adult
Goodreads Synopsis:
Veronica Mars meets William Shakespeare in E.K. Johnston's latest brave and unforgettable heroine.

Hermione Winters is captain of her cheerleading team, and in tiny Palermo Heights, this doesn't mean what you think it means. At PHHS, the cheerleaders don't cheer for the sports teams; they are the sports team—the pride and joy of a tiny town. The team's summer training camp is Hermione's last and marks the beginning of the end of…she's not sure what. She does know this season could make her a legend. But during a camp party, someone slips something in her drink. And it all goes black.

In every class, there's a star cheerleader and a pariah pregnant girl. They're never supposed to be the same person. Hermione struggles to regain the control she's always had and faces a wrenching decision about how to move on. The assault wasn't the beginning of Hermione Winter's story and she's not going to let it be the end. She won't be anyone's cautionary tale.
Source: School library
How I Found Out About It: Blogging
I have to say, the first time I laid eyes on that gorgeous cover, I did not predict that this book would be about rape. To me, it just looked like a fluffy contemporary about gymnastics. Even though I was wrong when I read the blurb, I was still curious about this book and thus decided to read it.
The topic of rape is definitely hard to read about, but in Exit, Pursued by a Bear, E.K. Johnston handles it very well and makes the mature topic easier for teen readers to bare, while at the same time not sugar-coating it. Rape is a very important topic in our society that is often overlooked, and I'm very glad that we have this book in our world so we are taught from it to be more cautious.
To briefly summarize the book, it follows a high school cheerleader named Hermione. Cheerleading is *the* sport of her small town, thus all cheerleaders have to keep their reputation in check. When she goes to cheerleading camp for what could be her last time, an unknown substance is placed into her drink at a party, and her whole life changes from that point on.
I found Hermione to be a super strong character throughout the entire book, even despite her unfortunate circumstances. She was very sweet without a dark side, and I honestly believe that all readers of this book can be inspired by her extreme strength– physically (well, since she was a cheerleader) and emotionally. The stereotypes set for "typical" cheerleaders are that they are angsty, whiny, and selfish, but Hermione's character showed that that is not necessarily true. Cheerleaders can be intelligent sweethearts, as well!💘
Another thing I want to point out about Hermione was the amount of development she went through by the end of the book. Wow, oh wow! In a typical case, the victim of something this horrible would be torn into shreds, but Hermione kept on a strong face and became even more sure of herself by the end of the book. Again, wow!
The plot of this book was very interesting and I think it's safe to say that it gripped me. I always found myself on the edge of my seat, never wanting to put this book down. It was a rather short read weighing in at around 250 pages, so I was able to whip it up super quickly in the duration of just over an hour.
Overall, Exit, Pursued by a Bear deserves so much more love- it really is such an important, coming-of-age book. In this story, readers learn to understand that one seemingly tiny mistake could lead to a whole fiasco, and many people, especially teens, seem to overlook this these days. I think that all mature avid YA readers should check this one out- it may revolve around a harsh topic, but the lessons learned from it are golden.👌
(4.25 stars)